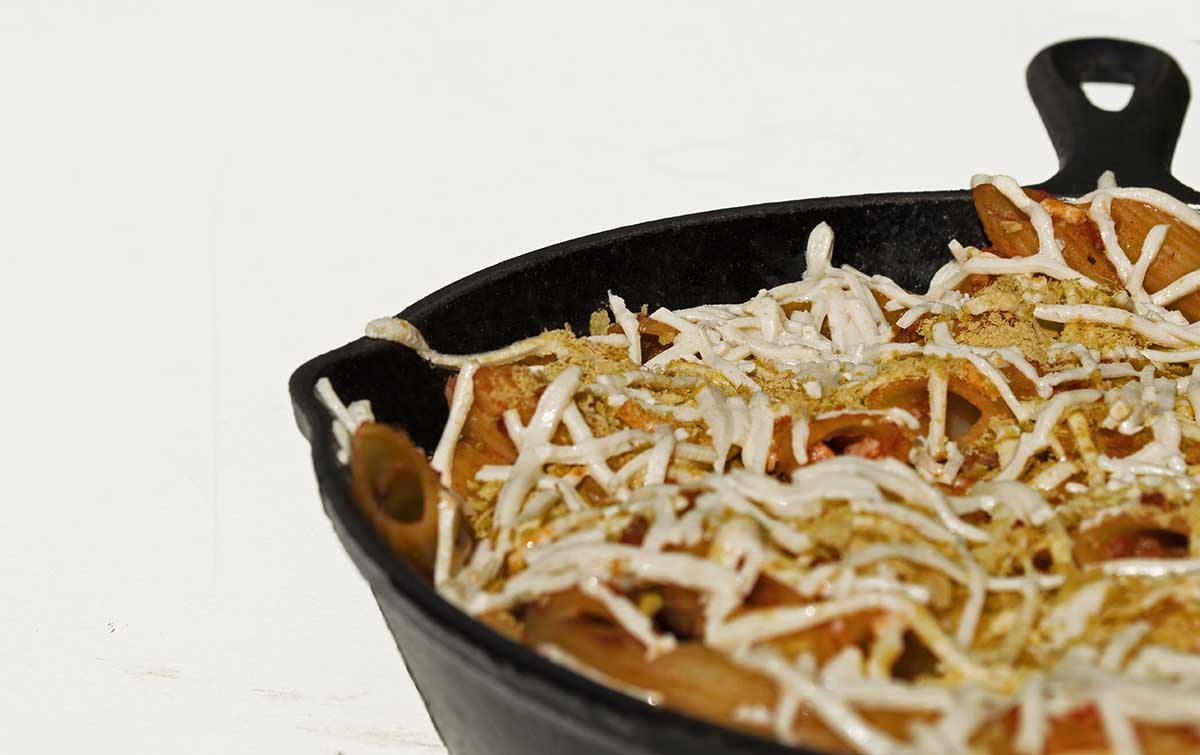 This is truly one of my very favorite meals. It is actually surprising that it has taken me this long to add it to the website. Although life has be getting increasingly busy, so there is that.  It is simple but filling, and makes great left overs for lunch at work the next day.  Truth be told the leftovers often get midnight snacked though.
One of the things I like is that other than boiling pasta in another pot, everything goes into one cast iron pan. I prep the sauce there, stir in the pasta, and place it in the oven to bake. Add a side of roasted garlic pita chips for the perfect complement, and you will feel like you are having something fancy when in fact you threw together supper in 30 minutes after rushing home from work.
What You Will Need:
2 shallots
2 cloves of garlic
½ pound Veggie ground
½ tsp cumin
¼ tsp paprika
¼ tsp oregano
½ tsp salt
3 Roma Tomatoes
1 cup Daiya Cheese Shreds
1 tbsp Nutritional Yeast
1 ½ cups Penne Noodles
How To Do It:
This recipe is best made in a cast iron frying pan, so you can simply move the pan from the stove to the oven and save on time and dishes. If you do not have a cast iron pan, or prefer a baking pan that will also work however.
In a medium sized cast iron pan fry the shallots until golden brown.
While the shallots are frying mince the garlic and put the pasta on to boil. Pasta should be boiled for 10-12 minutes.
Add the minced garlic to the pan along with the veggie ground, cumin, paprika, oregano and salt. Mix well and let simmer for 1-2 minutes.
Cut each of the tomatoes in half and then using a cheese grater, grate all of the tomatoes into the pan. Hold the cut side of the tomato and grate gently this will leave you with the left over skin which you can then compost.
Drain the pasta and add it to the rest of the ingredients in the pan, and mix well.
Top with nutritional yeast, and then the Daiya cheese shreds.
Place the whole pan in an oven set to 350° and bake for about 10 minutes.
Remove from the oven and let cool for 5 minutes and then enjoy!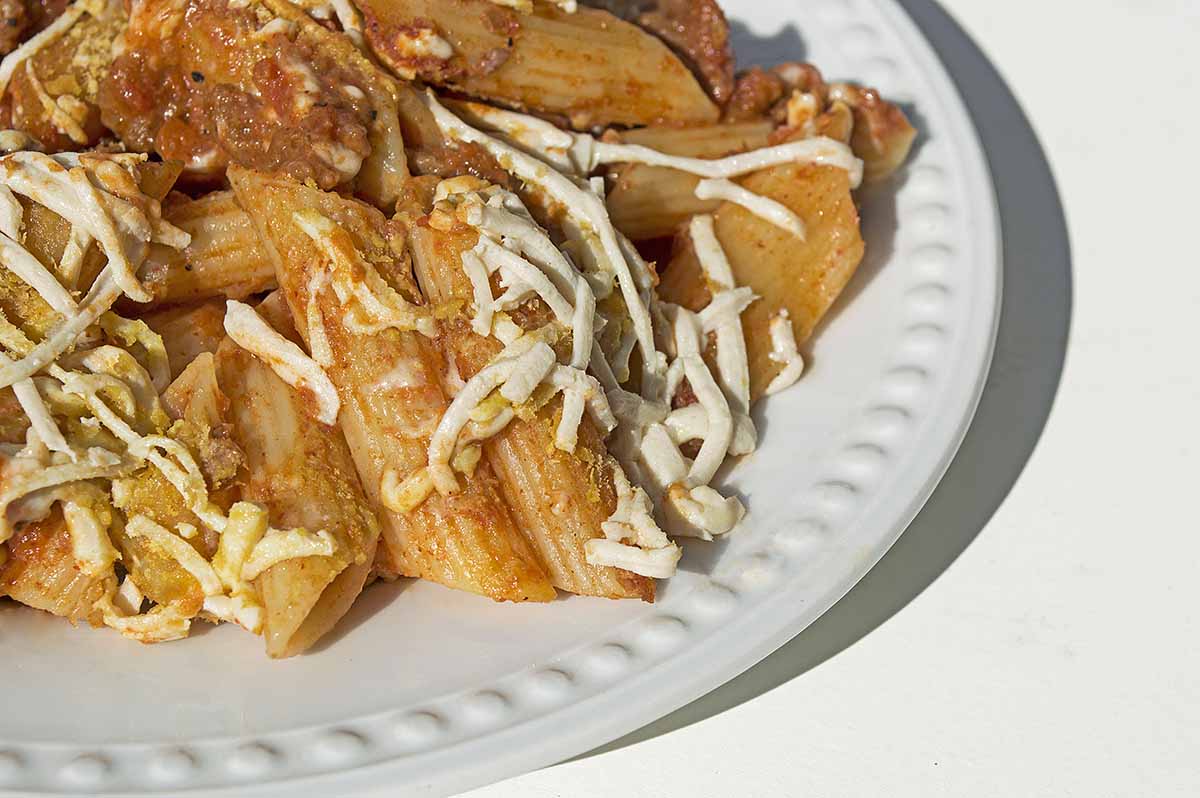 Summary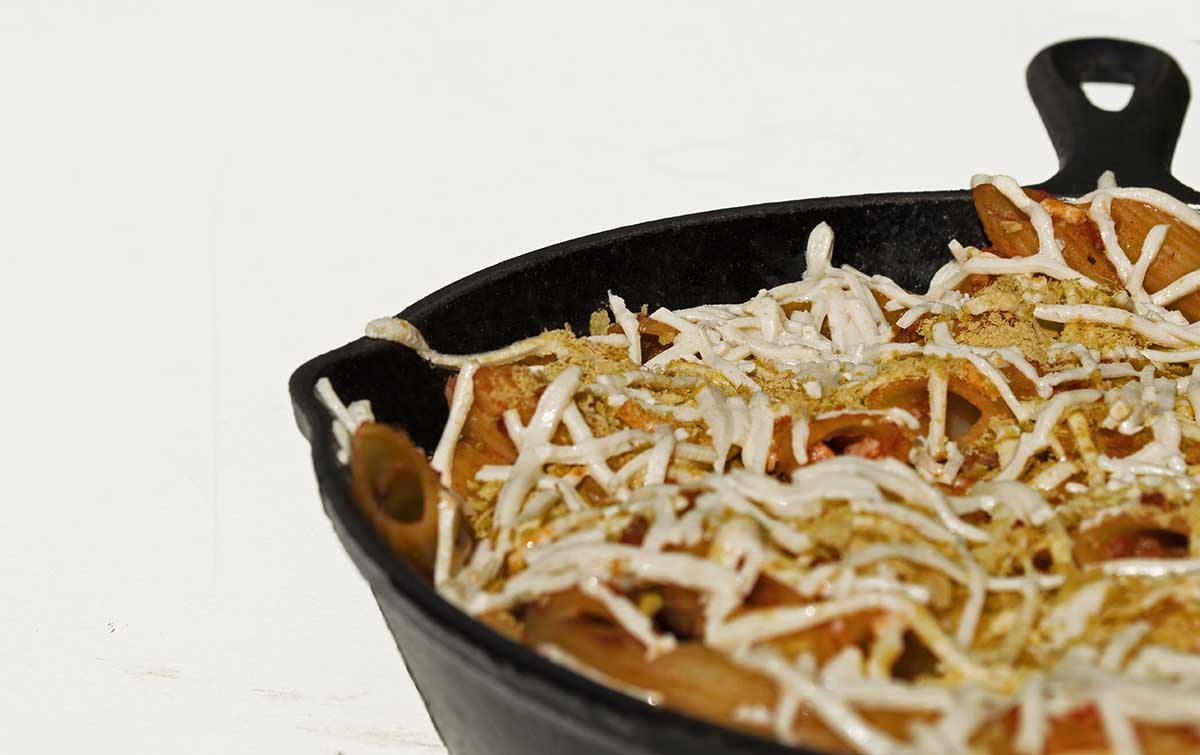 Recipe Name
Published On
Preparation Time
Cook Time
Total Time
Average Rating





Based on 3 Review(s)