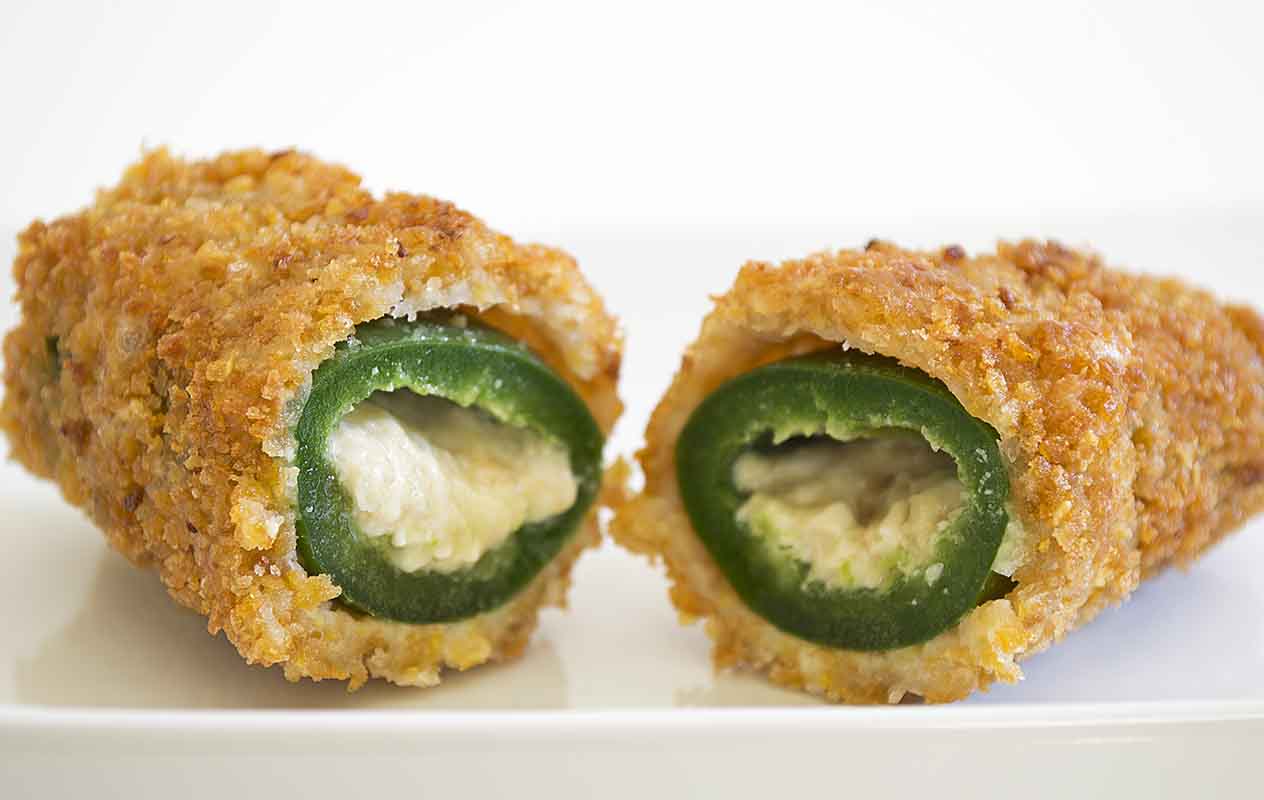 Close your eyes and think of the satisfying crunch, slight bite of heat and the refreshing creaminess of cashew cream filling that makes these vegan jalapeno poppers so possible. Ok good, I'm glad that I have your attention. This recipe is for basic poppers that are simple, but utterly delicious.  If you have the cashew cream cheese already prepared you can have a batch of poppers ready in less then 20 minutes, and be filling your belly with delight. These are the perfect addition to any dinner party, game night, or potluck, although honestly more often than not I whip up a batch after the kids are sleeping and then curl up with my yummy snacks and a good book, or sometimes a movie.
What you Will Need:
1 Flax Egg
¼ cup Flour
¼ cup Water
½ cup Bread Crumbs
½ cup Corn Flake Crumbs
½ tsp Salt
1 cup Cashew Cream Cheese
12 Jalapenos
How To Do It
Prepare the jalapenos by cutting the end with the stem off of each pepper.  Then with a sharp knife  slice each pepper down the center of one side. This should allow you to open the peppers enough to scrape out the seeds and membrane.
Fill each jalapeno with a little over a tablespoon of cashew cheese, adjusting for the size of the peppers.
In a small mixing bowl combine the flax egg, flour, and water, and mix well.
In a second bowl mix together the bread crumbs, corn flake crumbs, and salt. You could use just bread crumbs, panko, or even corn meal, however I find I prefer the texture of this mixture best for jalapeno poppers.
For each pepper dip first in the flour mixture, and then place in the bowl with the bread crumb mixture. Spoon the mixture over the peppers until coated evenly.
In a medium frying pan heat ¼ inch of oil to 350°.  Place each of the coated peppers in the pan and fry for 2-3 minutes until golden brown, turning to make sure each side is cooked evenly. Serve with your fresh vegan jalapeno poppers with your favorite dipping sauce, and enjoy.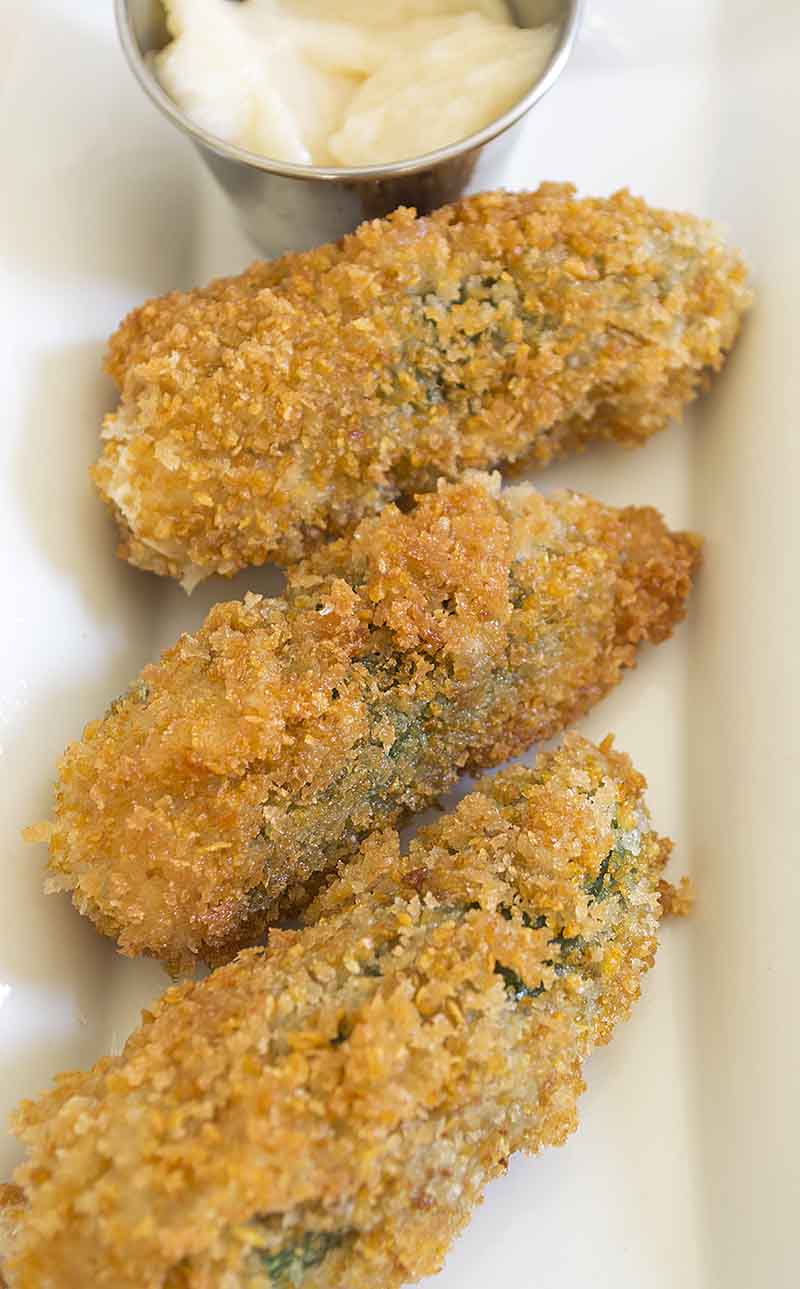 Summary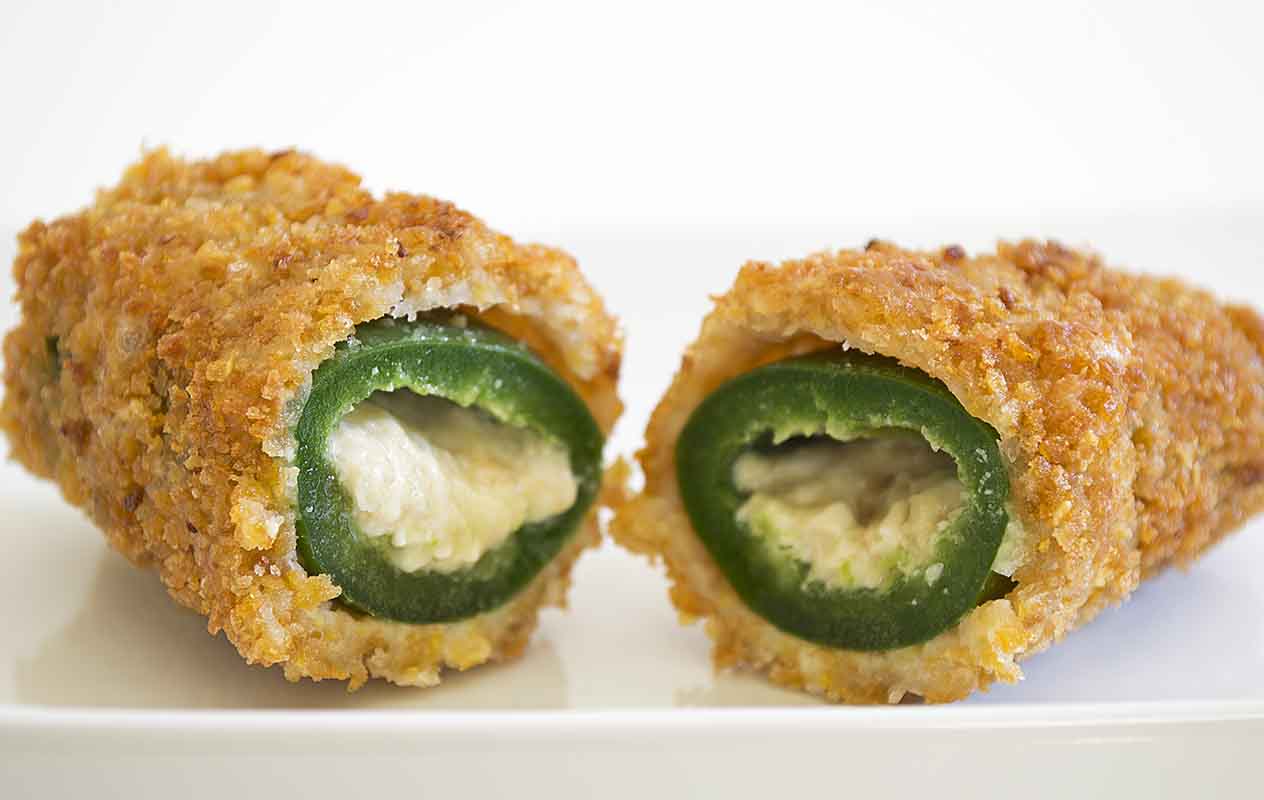 Recipe Name
Basic Vegan Jalapeno Poppers
Published On
Preparation Time
Cook Time
Total Time