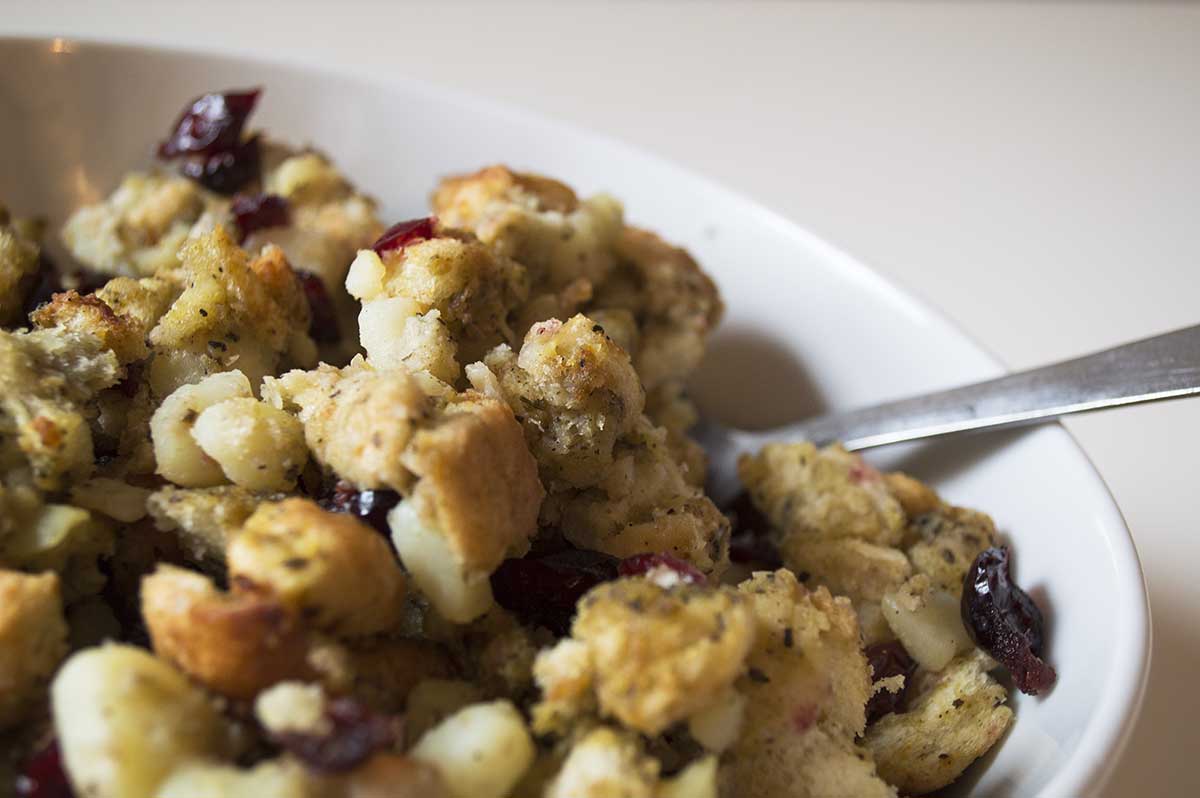 This is a nice easy vegan stuffing recipe that I enjoy very much.  It is one that almost anyone can enjoy, and has a wonderful flavor and consistency, and the cranberries are a perfect finish to the blend of herbs that are used in the recipe.  One of my favorite things about the recipe and a large part of the reason that I developed it in the first place is that the bread does not have to be stale or dried. I can never remember to leave bread out for this, and half of the time when I decide to make stuffing it is simply on a whim. I want stuffing with my supper and I want supper in an hour. With this recipe I can do that. I hope that you enjoy this easy vegan stuffing as much as I do!
What You Will Need:
10 Slices of Bread
4 Potatoes
3 tbsp Vegan Butter (melted)
1 tbsp Nutritional Yeast
1 tsp Thyme
1 tsp Sage
1 tsp Garlic Powder
1 tsp Oregano
¼ cup Vegetable Broth
½ cup Dried Cranberries
How To Do It:
Begin by cutting the potatoes into small cubes. I usually cut them very small, only about a quarter of an inch or so. This keeps the potatoes from overwhelming the stuffing, and gets them cooked that much faster. Bring a pot of water to boil and add the potatoes, boiling for about 7 minutes.
In a large bowl break the bread slices into pieces about a half and inch to an inch in size. Drizzle the melted vegan butter over the bread crumbs while stirring to coat evenly.
Place the bread crumbs on a large baking tray and spread out evenly. Place the tray into an oven preheated to 300° and bake for 5-6 minutes stirring once or twice. You want to toast that bread crumbs lightly, but not make them crunchy.
Remove the bread crumbs from the oven, and drain the potatoes. In a large mixing bowl mix together the crumbs, potatoes. Continue mixing while slowly adding each of the herbs and spices. Pour in ¼ cup of vegetable broth mixing well. Finally add in the ½cup of dried cranberries.
Pour this mixture into a casserole dish and place in an oven preheated to 350°. Bake for about 30 minutes, until the top is beginning to get just a little bit crispy. I like to give it a good stir about halfway through baking as well.  Remove from the oven and enjoy!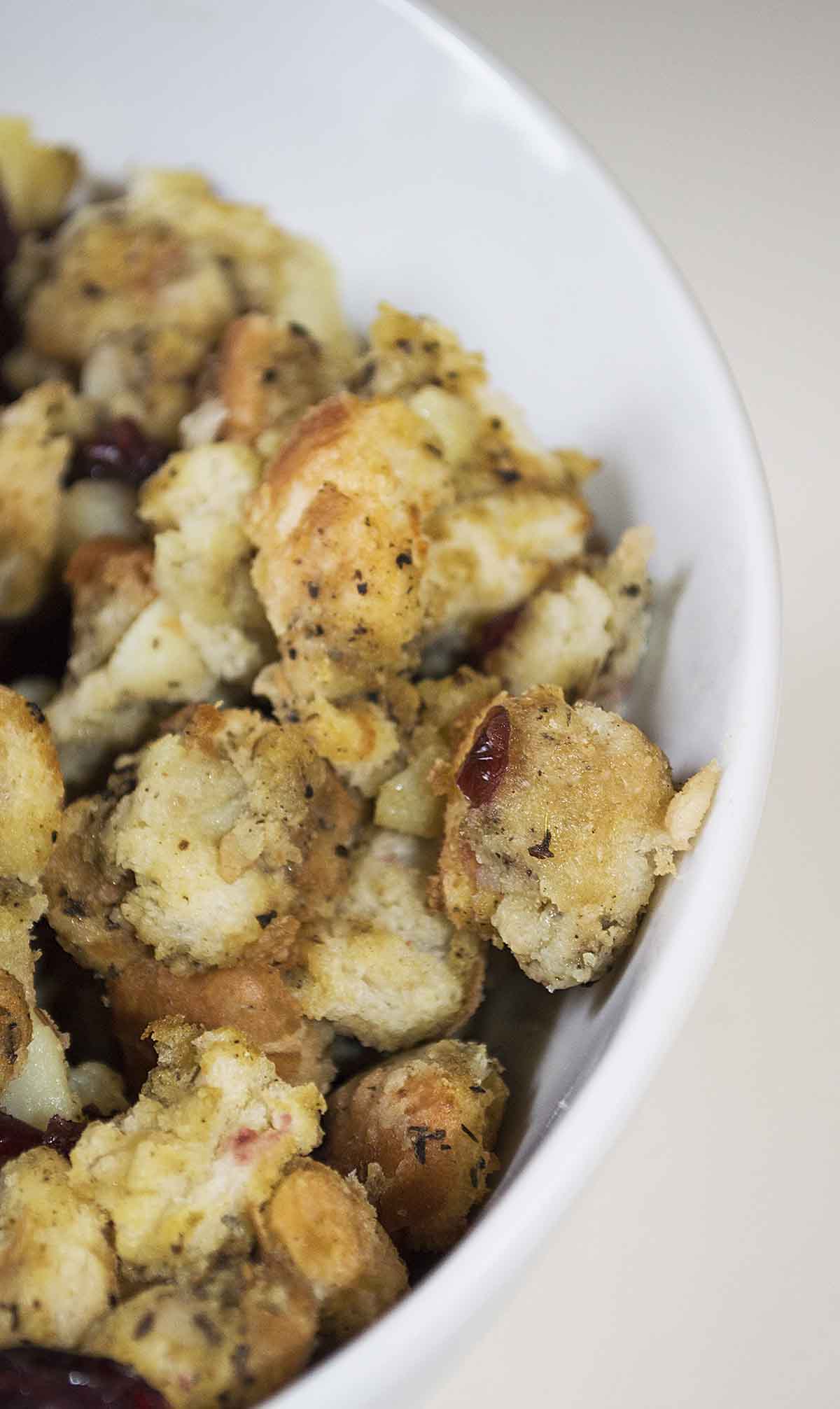 Summary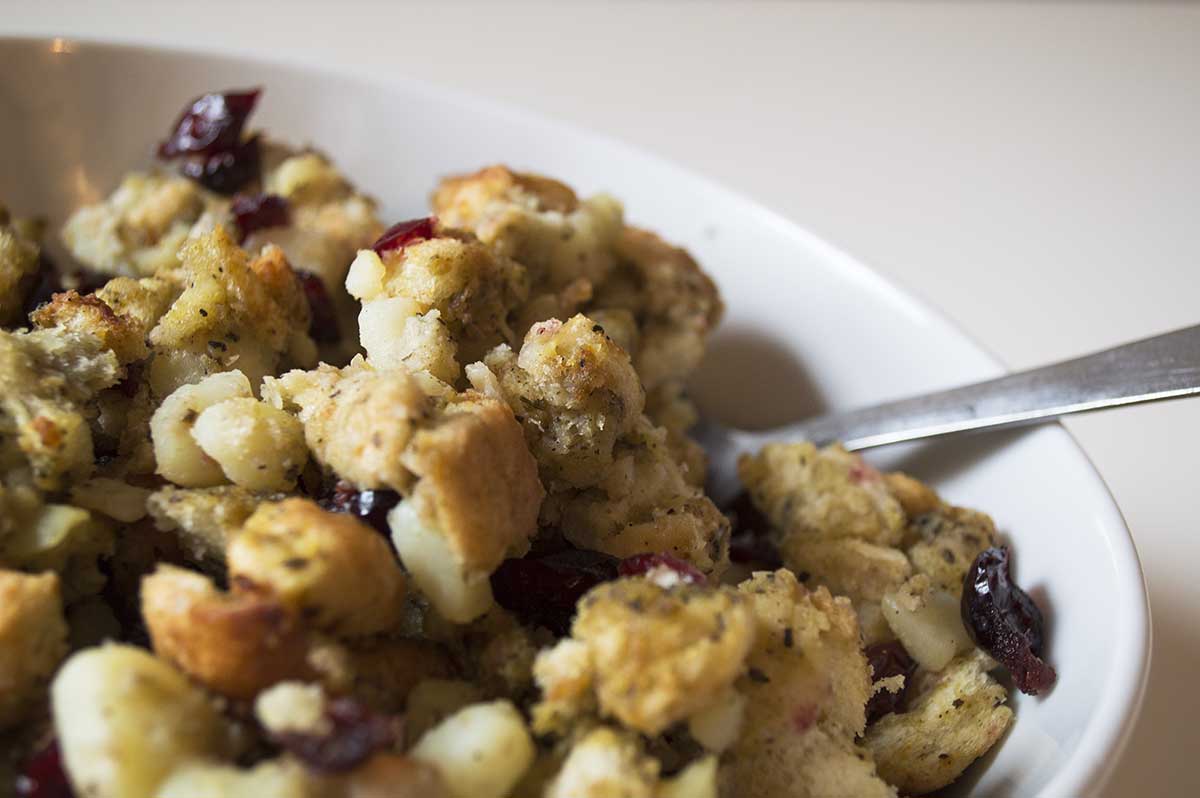 Recipe Name
Easy Vegan Stuffing with Cranberries
Published On
Preparation Time
Cook Time
Total Time