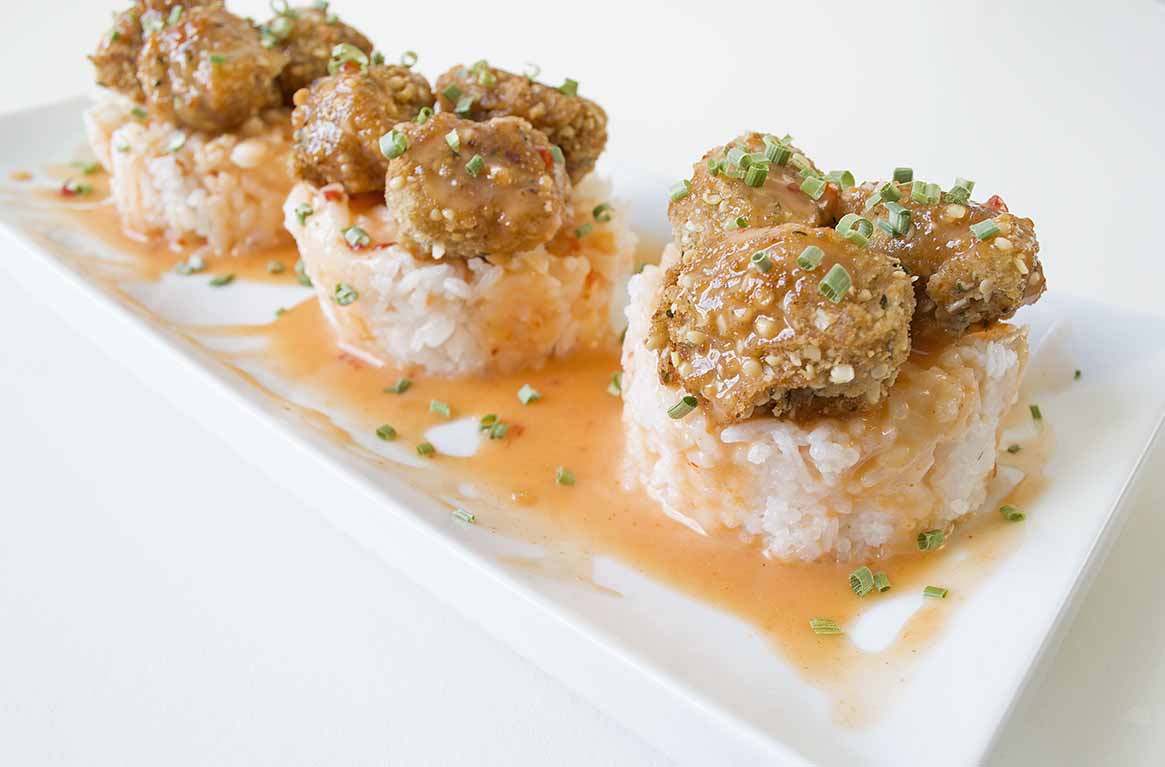 Meatless "chicken" bites, breaded and fried to crispy perfection and then covered in a delicious sweet and spicy sauce. Having been someone who ate meat for a long time this is a recipe that I really enjoy. It allows me to enjoy the nostalgia of some of the food I used to love without any of the guilt or regret. Crispy chicken bites are also one of the things I make that totally baffles my meat eating friends because even the most skeptical of them cannot really tell the difference, which I totally enjoy!.
It is something that I don't make quite as often, partly because it takes a bit more time than somethings, and partly because I am attempting to be somewhat healthy and limit the number of things I fry in oil on a frequent basis. That said it is one of my favorite treat meals, and is perfect for a movie night or when friends are visiting.
What You Will Need:
10 Vegan Chicken Strips
½ cup Flour
½ cup Water
1 Flax Egg
1 cup Bread Crumbs, or Panko
1 tsp Salt
½ tsp Paprika
¼ cup of Vegan Mayonnaise
1 tbsp of maple syrup
1 tbsp of Frank's Red Hot Sauce
2 tbsp of Sweet Chili Sauce
How To Do It:
Warm "chicken" strips in the oven for 3-5 minutes until they are thawed enough to cut. Then cut into approximately ½ inch pieces.
I one bowl mix together the flour, water, and flax egg, and in a second bowl mix together the bread crumbs, salt, and paprika.
Dip each piece of "chicken" into the flour and water mixture, make sure to coat evenly. Move to the bowl of bread crumbs and again coat evenly. Set aside on a plate till all of the pieces are coated.
Now your "chicken" pieces can be cooked either in a traditional deep fryer, or you can fry them in a pan as I do.  To do this put about a ¼ inch of cooking oil into a frying pan with high sides. Bring the oil up to temperature (about 350º). A good way to test this if you do not have a thermometer is to place the end of a wooden spoon into the oil, if after a few seconds bubbles begin to form the oil is at a good temperature fro frying. Place the pieces to be cooking into the oil, turning halfway through to cook each side. This should be about 1 minute on each side. Remove from the pan and place on a plate with paper towel.
To prepare the sauce simply place the mayonnaise, maple syrup, sweet chili sauce and Frank's into a small bowl and whisk together. Now either drizzle the sauce over the "chicken", or place a few pieces of "chicken" at at time into a bowl with a small amount of sauce and shake to coat. Serve with rice and enjoy!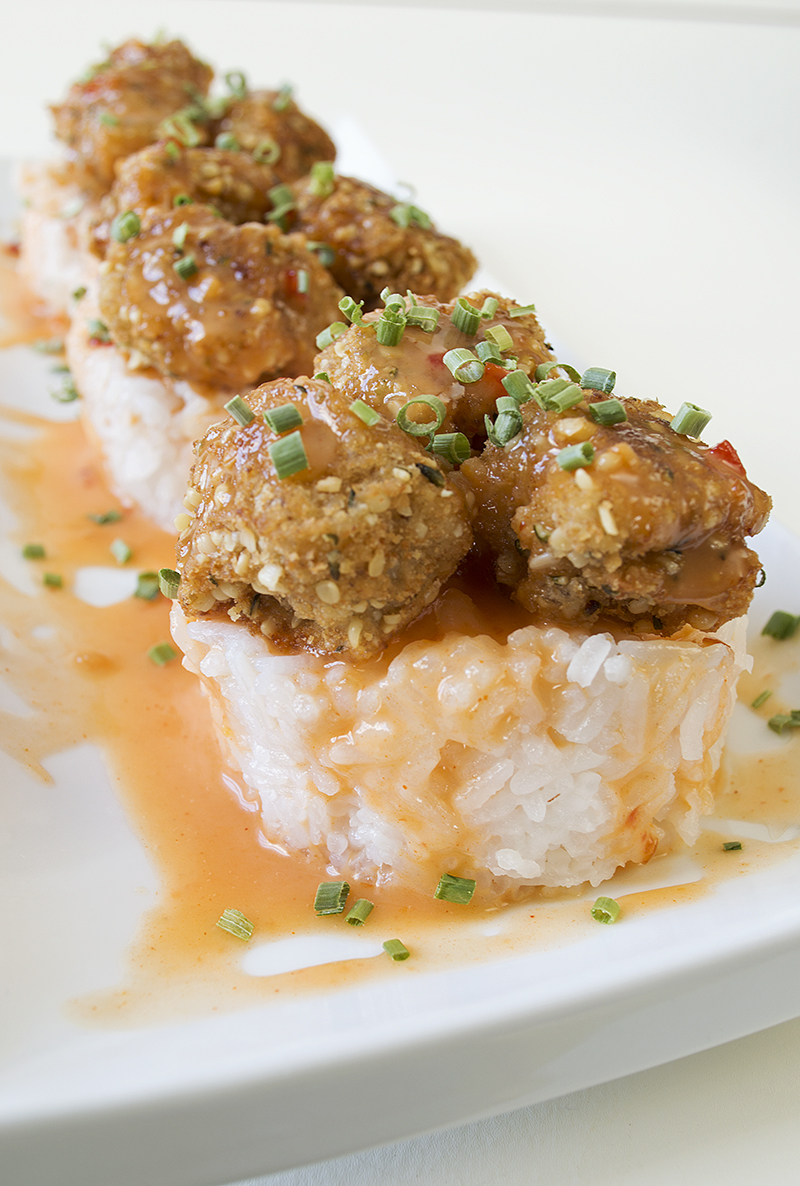 Summary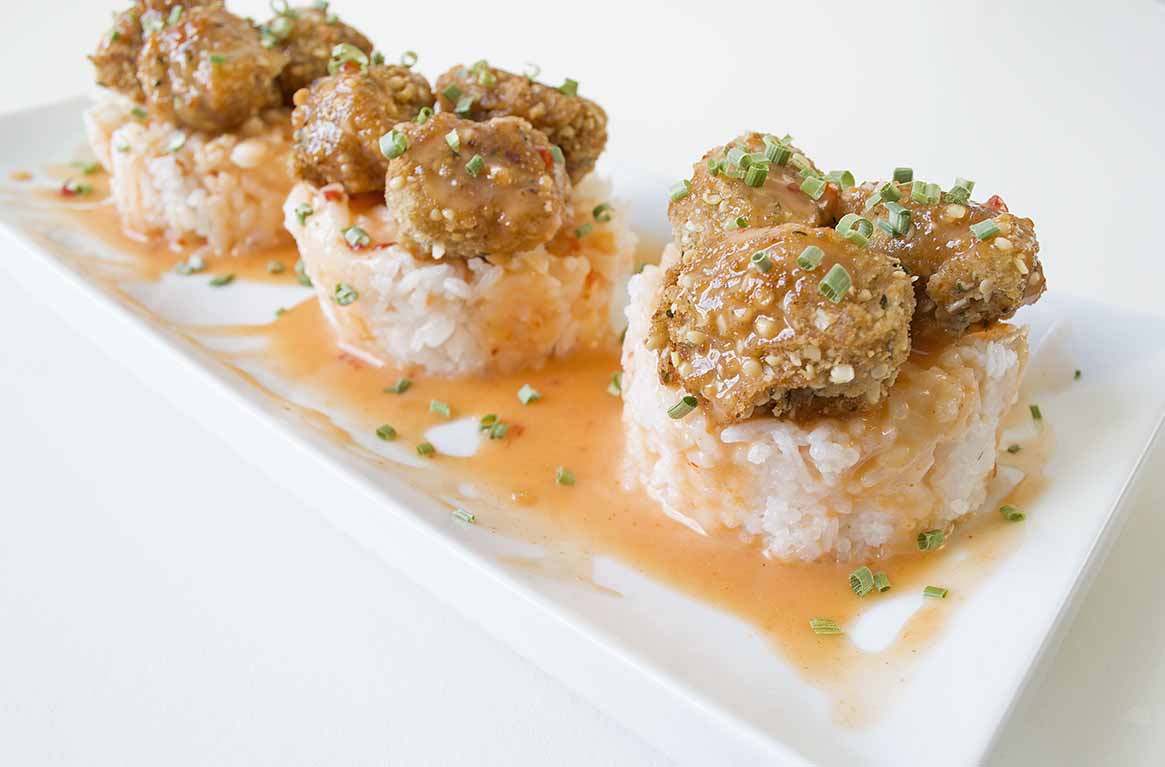 Recipe Name
Published On
Preparation Time
Cook Time
Total Time