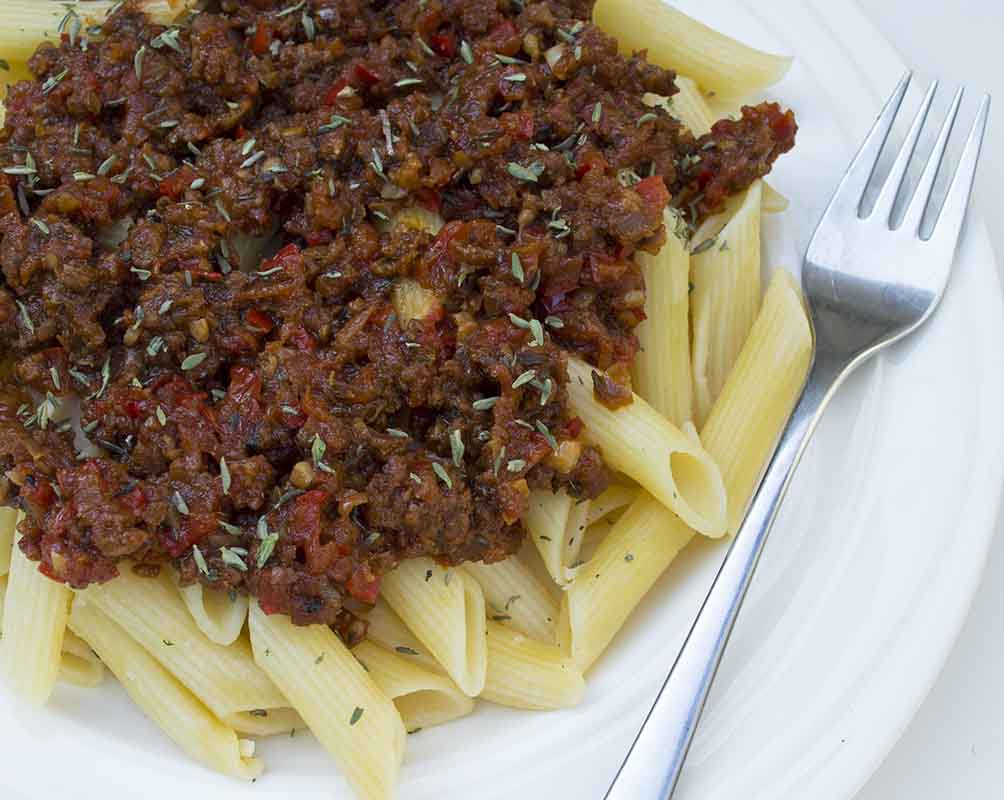 Warning!! This vegan bolognese sauce made with fresh grated tomatoes, fried shallots, sweet red peppers, and a perfect blend of herbs and spices, may leave you unable to eat canned or store made pasta sauce again.
I made this for the first time about a month ago, and it was the first time I had ever made pasta sauce from scratch. I have been making it all the time since because it is so ridiculously good. Each time I've tried a different mix of seasonings and have finally found the perfect balance. The red peppers and maple syrup in this recipe give it a slight sweetness, and the hot sauce and paprika give it a pleasant heat. With garlic, thyme and coriander to round out the flavors you will be scooping up the last drops of this vegan bolognese sauce.
What You Will Need:
3 Large Tomatoes
3 Shallots (or 1 Onion)
1 Red Pepper
2 Cloves of Garlic
½ cup Vegan "Ground Meat"
2 tbsp Maple Syrup
1 tbsp Franks Hot Sauce
1 tbsp oil
1 tsp Thyme
½ tsp Ground Coriander
½ tsp Salt
¼ tsp Paprika
Dice the shallots and add to a large frying pan, with a tbsp of oil, on medium low heat. Fry for 5 minutes or so until they begin to brown. Add the garlic minced, and fry for another minute.
Dice the red pepper and add to the frying pan, frying for 2-3 minutes, and then adding the maple syrup and frying for another 2-3 minutes.
While this is frying cut in half and core the tomatoes. Using a cheese grater, grate the tomatoes with the skin facing out. Once the flesh of each half is grated discard what is left of the skin.
Once the peppers have been frying for 5-6 minutes add the grated tomato. Stirring gently add the thyme, coriander, salt, and paprika.
Add half a cup of vegan "ground meat" and stir.
Continue to cook on medium low for 15-20 minutes, stirring occasionally, until the sauce begins to thicken. Serve with your favorite kind of pasta and enjoy!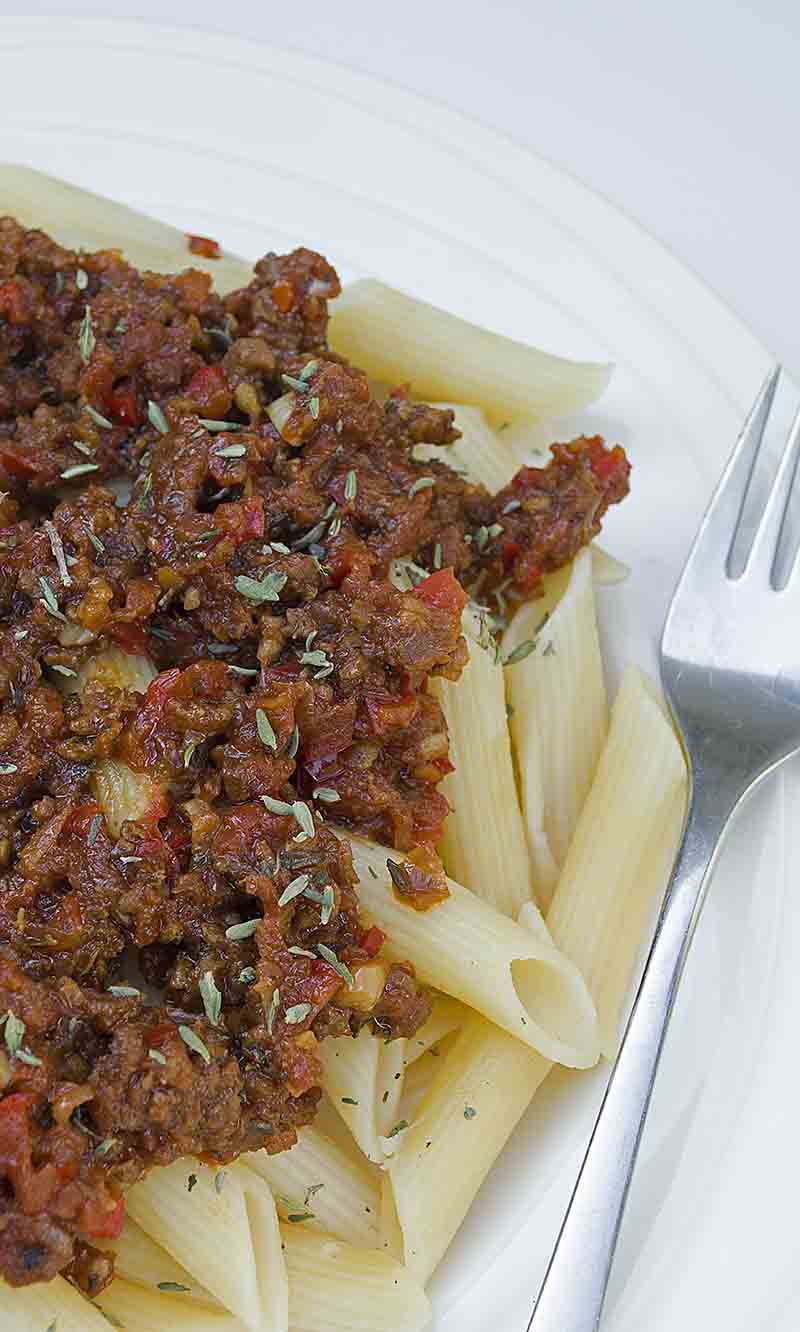 Summary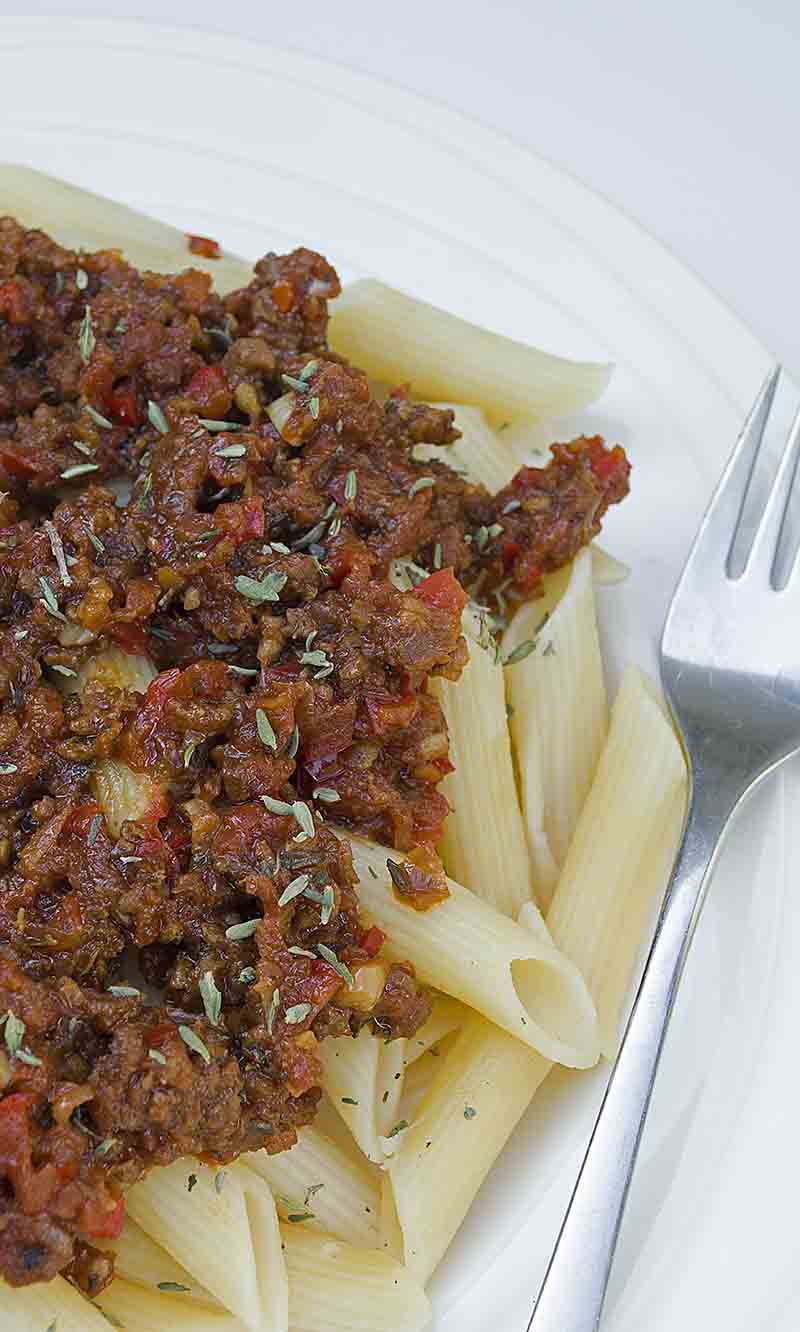 Recipe Name
Fresh Vegan Bolognese Sauce
Published On
Preparation Time
Cook Time
Total Time