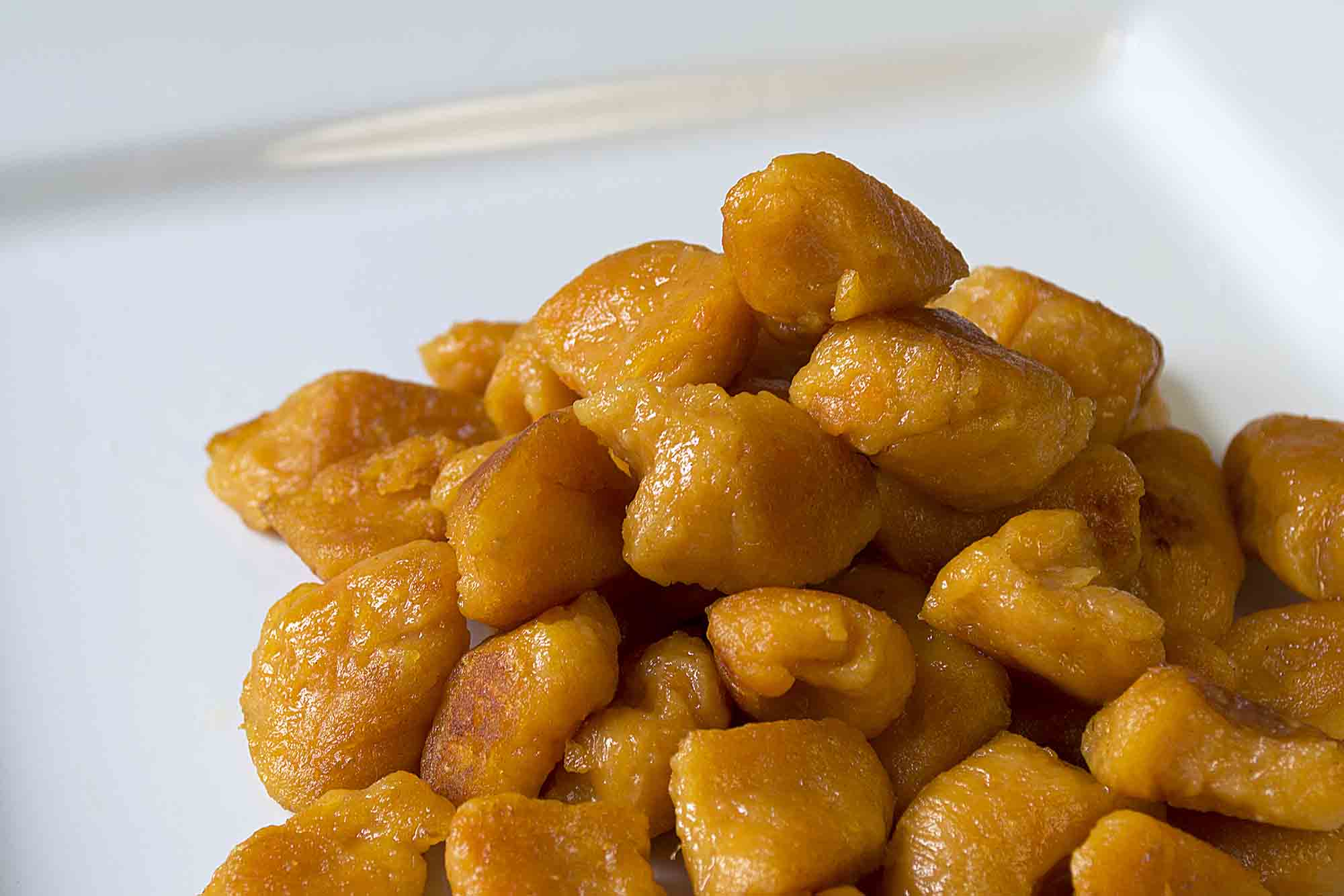 Although I took business courses, my classes were all at the culinary campus of the college I attended, for some reason. As a result the lunches that were available in the cafeteria were extremely varied and more often than not totally unacceptable for a vegan diet. One thing I was always excited to see on the menu however was gnocchi. The first time I had it I had no idea what I was in store for, which was a common occurrence at a cafeteria that was used to train future chefs, but I was in for an amazing surprise! Gnocchi is yummy!!!
Eventually I learned that it was basically potato pasta and I started experimenting with cooking it at home. Then one night I decided to try sweet potato gnocchi and I was hooked! I mean gnocchi is great, but sweet potato gnocchi really awesome!! Especially when it is infused with roasted garlic and fried to perfection in a little vegan margarine.
I hope you all enjoy this recipe as much as I do!
You Will Need:
1 Large Sweet Potato
3 Cloves of Garlic (Roasted)
½ tsp Turmeric
¼ tsp Salt
1½-2 Cups Flour (Approx.)
Begin by placing the sweet potato in the oven to bake for about 30 minutes. During the last 5 minutes of backing add the cloves of garlic to the oven to roast. Remove both the sweet potato and garlic from the oven and let cool for 10 minutes.
Now remove the skin of the sweet potato and place the flesh in a medium sized mixing bowl. The potato may still be quite warm so be careful when doing this.
Remove the skin of the of the garlic and place the cloves in a small dish. With a fork mash the roasted garlic cloves into a paste.
Add the mashed garlic, turmeric and salt to the bowl with the sweet potato. Mash the potato with a fork, making sure to mix in the other ingredients well.
Now begin adding flour to the sweet potato mixture. Begin by adding about ½ a cup and then stirring, then continue adding ¼ cup at a time. The amount of flour you will need will vary each time you make gnocchi depending on the size of the potato you use among other factors.
Keep adding flour until the mixture begins to become difficult to stir. At this point sprinkle some flour on the counter and remove the sweet potato gnocchi dough. Knead gently adding more flour as needed until the dough becomes workable.  You want to be able to handle it without difficulty, but you also do not want to add too much flour as this will cause the gnocchi to loose flavor and taste too doughy.
Break the dough into 4 equal pieces. Roll each piece into a strip about the diameter of your thumb. With a knife cut the strips into ½ inch pieces.
Bring a pot of water to boil and add the gnocchi, in batches of about 2 dozen pieces, to cook. You will know when they are done when they raise to the top, which should take about 2 or 3 minutes. Use a slotted spoon to remove.
Many people will eat the gnocchi at this stage, but I prefer to fry them in a pan with a little bit of vegan margarine. I find this gives them the perfect finishing touch and adds a nice crispy outside. Mmmmmm.
Now you can eat as is, dip it, or add vegetables and pasta sauce.
Let me know what your favorite way to eat sweet potato gnocchi is. I am always looking for great ideas to try!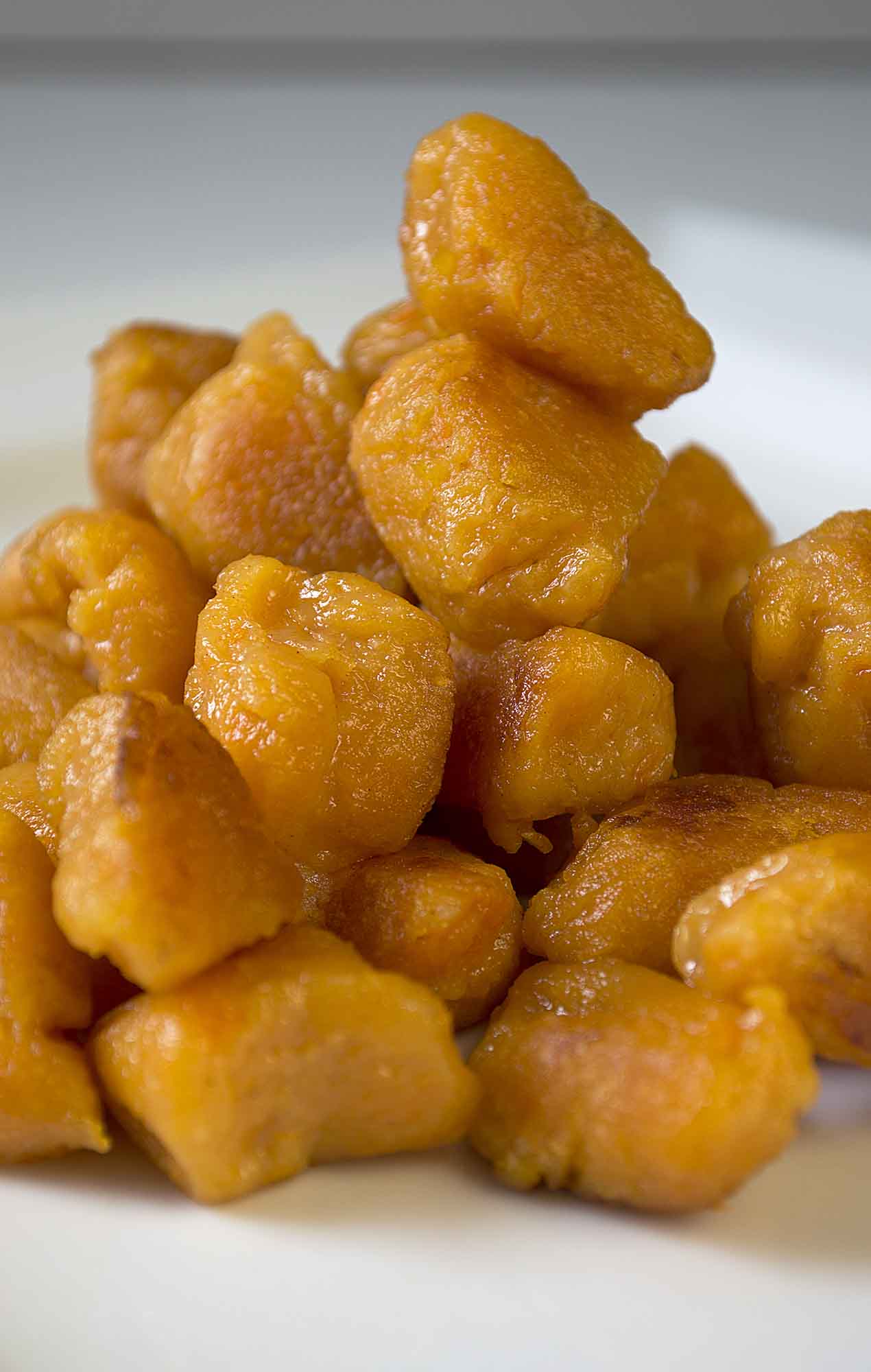 Summary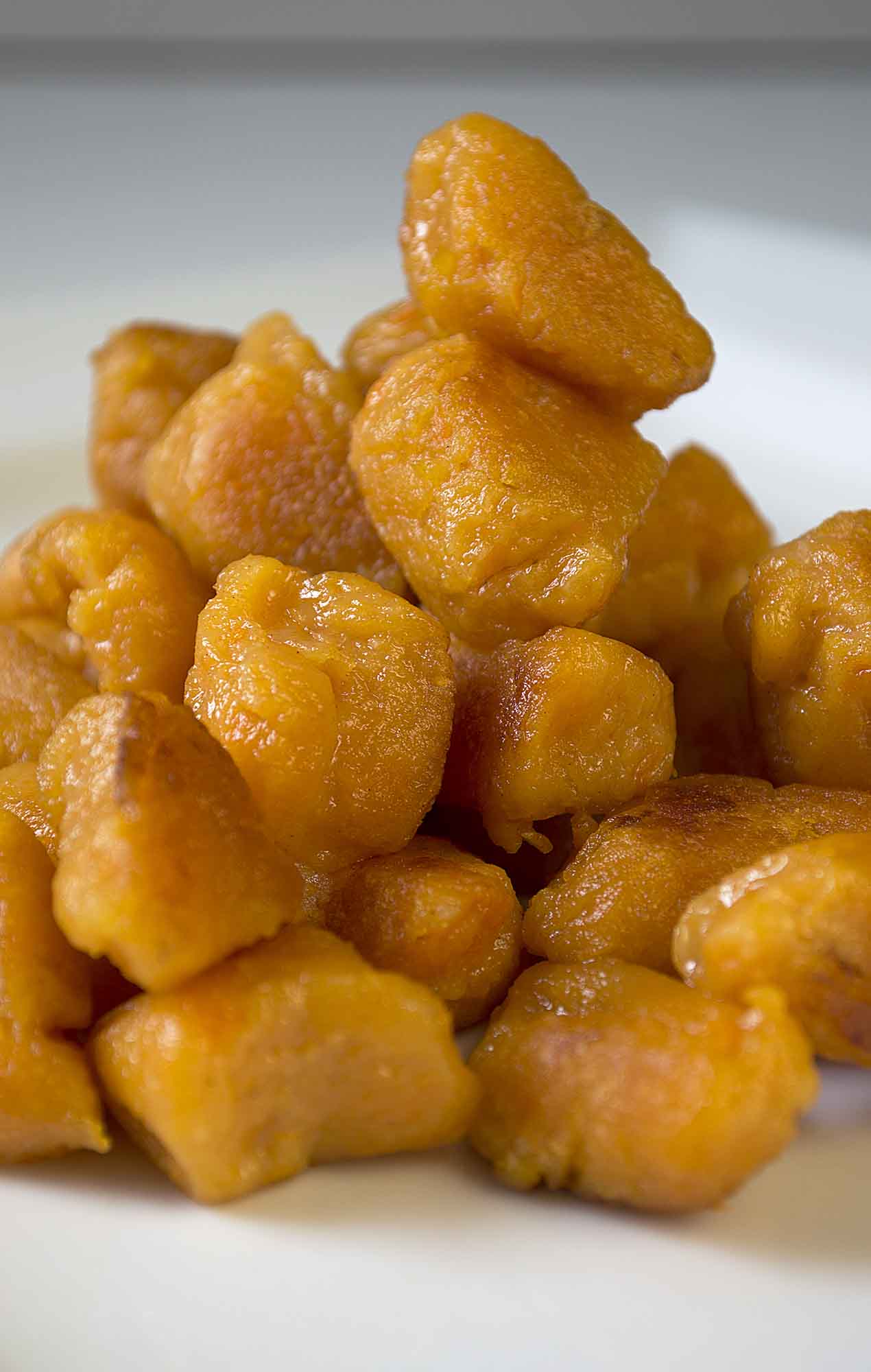 Recipe Name
Published On
Preparation Time
Cook Time
Total Time