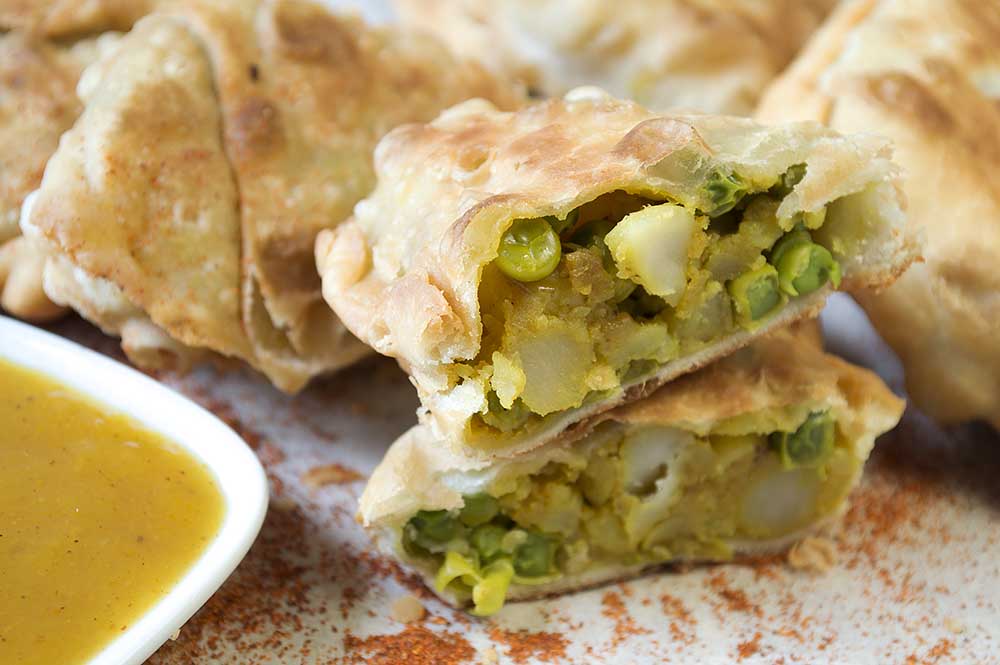 Vegan samosas are simply one of my favorite things to eat. They are so delicious and have so many variations, how could you not give them at least a little love. Having recently gone vegan, (I was fairly close in the spring, and made the full leap this summer), I really appreciated that samosas could easily fit into this diet.
I have been experimenting with a lot of different recipes, partially for this site, and partially because eating out is both expensive, and when living in Prince Edward Island, relatively limited in the choices that are available for a vegan diet. This vegan samosa recipe was one of the best results that I have had to date, and is now something I make probably more often than I should.
Samosas are a great side to just about any other dish, but I often end up just eating a plate of them alone, or with a small salad. Vegan samosas are also great for serving to non vegan friends as they taste awesome, are also very satisfying, and your friends will totally forget that they did not have any meat with their meal.
What You Will Need:
2 Medium Potatoes, Peeled and Cubed (approx. 2 cups)
½ cup of Peas
2 Shallots Minced
½ tsp Cumin
½ tsp Ginger
½ tsp Turmeric
½ tsp Paprika
For The Dough:
1 cup of flour
2 tbsp oil
½ tsp salt
1 baking powder egg
approx. ¼ cup water
To Make Vegan Samosas:
The first thing to do is make the dough. It is going to sit for about 20 minutes during which time you can make the filling for your vegan samosas.
Begin by measuring out the flour and salt into a medium sized bowl.  Add 2 tbsp of oil into the dry ingredients.  Mix this together using your fingers until the oil is thoroughly combined with the flour.
Next add in the baking powder egg, to make this mix 1 tsp of baking powder with 2 tbsp of water, then add to the flour mixture.
Begin adding the ¼ of water a tsp or two at a time, mix it in and then adding more, the amount of water you may need can vary so use a little less or a little more as needed.
Once the dough is to the point it can formed into a ball without it being sticky, it is finished. Set the finished samosa dough aside to set for about 20 minutes.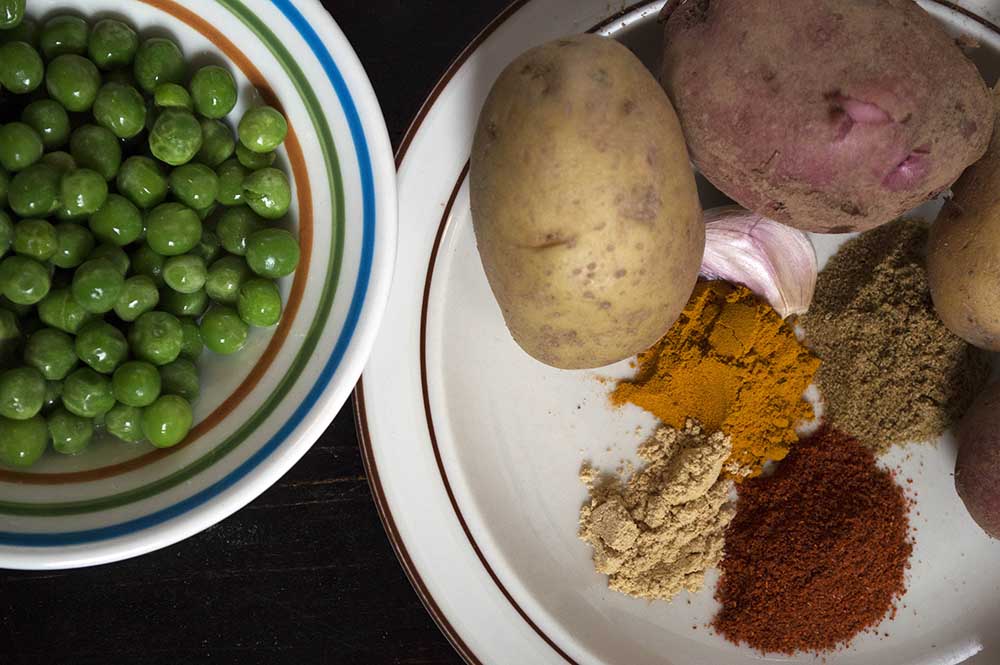 If you have not done so already wash, peel and cube your potatoes. Keep the cubes to around ½ inch, this will help them to cook a little bit faster.
In a medium frying pan add a tsp or so of oil, the diced garlic, shallots, and the spices. Let these simmer on medium heat for about a minute and then add the potatoes.
Cook this on medium heat stirring occasionally for 15 to 20 minutes until the potatoes are soft.
Add the peas for that last 3 or 4 minutes of cooking.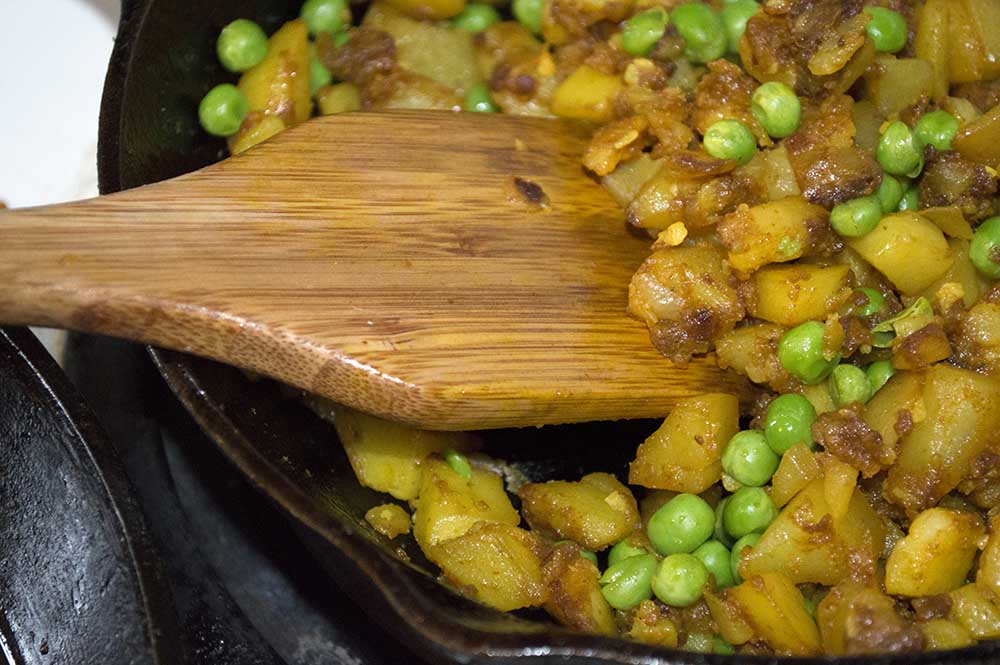 Remove the dough from the refrigerator and split it into 6 even balls. Roll each ball of dough out until it forms a flat circle about 6 inches across.  Slice through the center of each circle to create two even semi-circles.
Roll each semi-circle into a cone with the strait section forming the open end, pinching the dough together to seal the cone. Now you can stuff the cones with the samosa filling and then seal up the open end.
Repeat this until all of the dough and filling is used up, this should be approximately a dozen vegan samosas.
Pour about ¼ inch of oil into a frying pan. You want to have enough that when the samosas are placed in the pan the oil reaches about midway up.
Heat the oil on med until it is ready. Test this with the wooden spoon method. When the oil is ready for cooking it will form bubbles around a wooden spoon placed into it. Fry samosas for approximately 2 minutes on each side, or until they are a golden brown. Place on a plate with paper towel to drain, and then enjoy!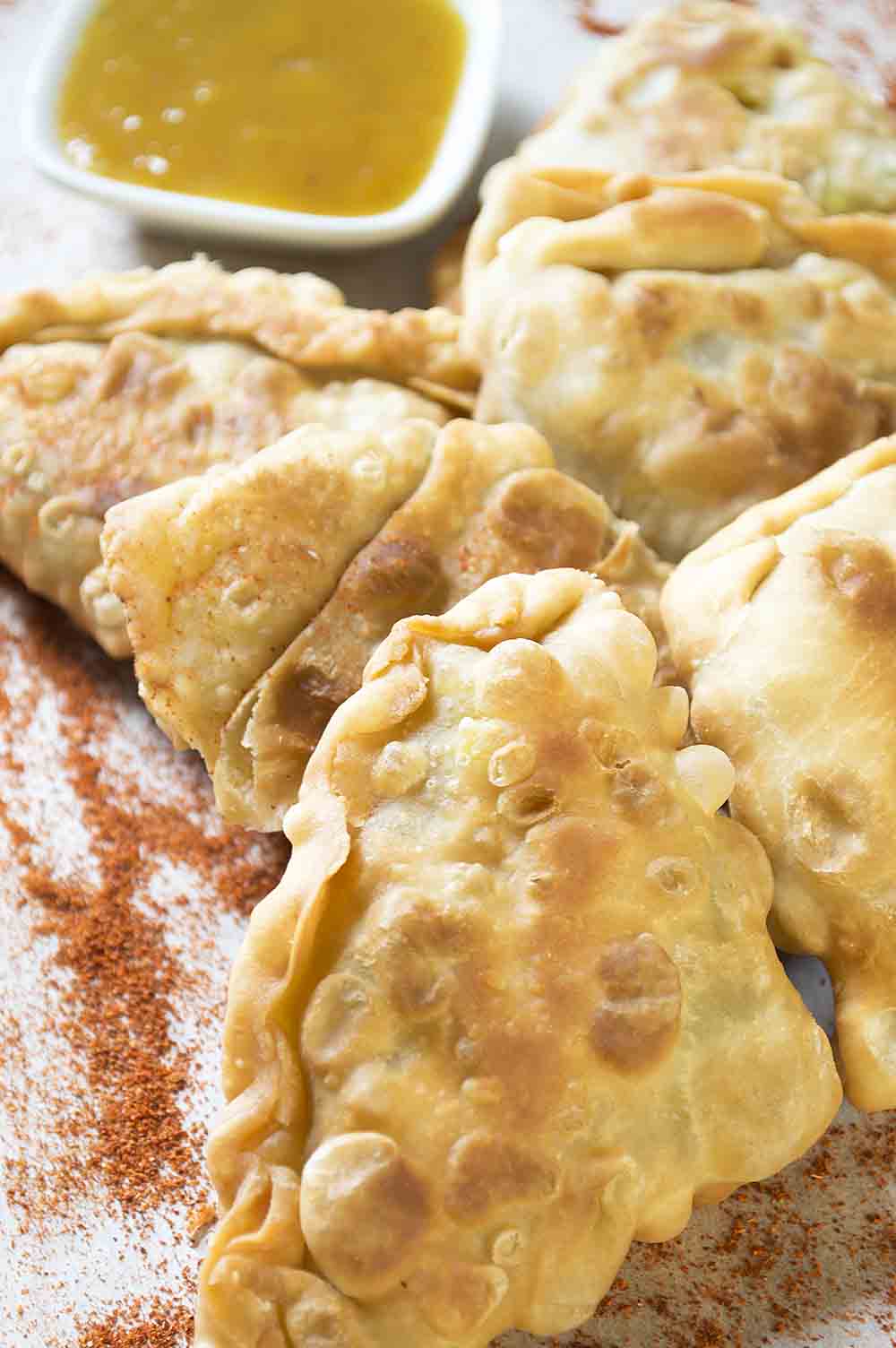 Summary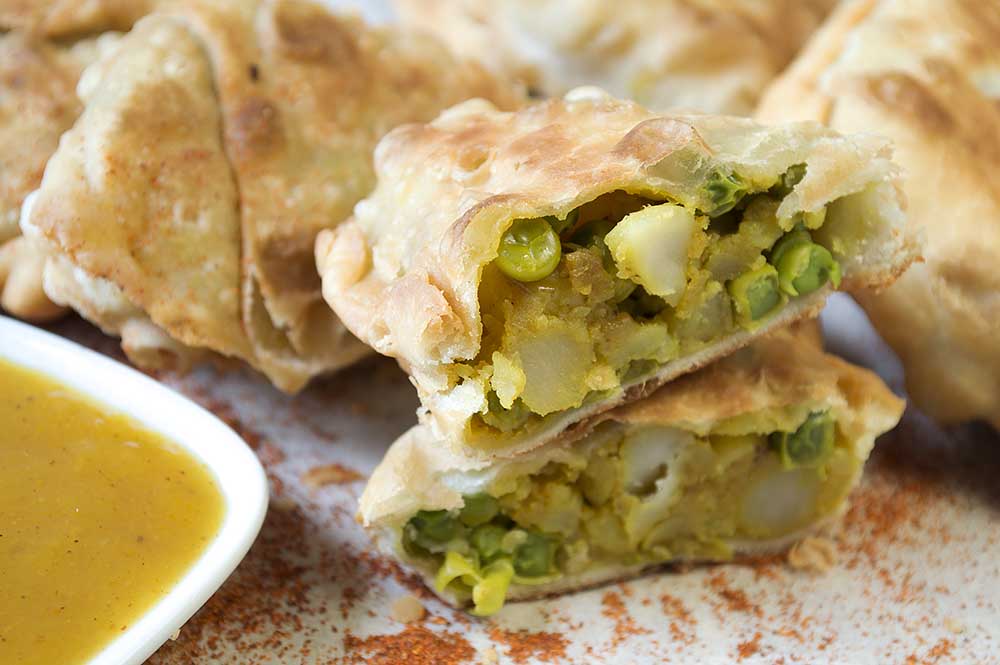 Recipe Name
Published On
Preparation Time
Cook Time
Total Time