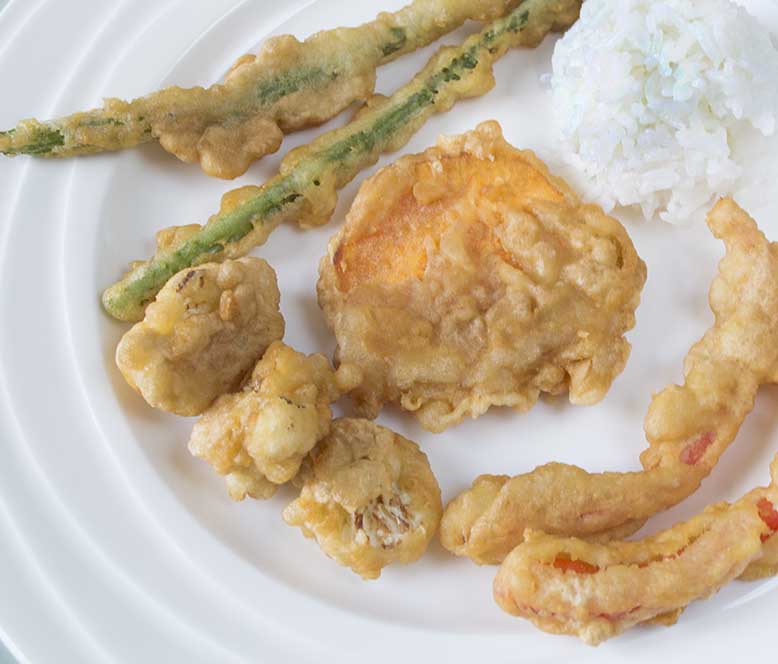 One of my favorite things to have when I am getting take out with friends is vegetable tempura, it is fast, yummy, and can be made with lots of different vegetables so there is some variety. I also recently found out that it is not necessarily vegan, as depending on the restaurant eggs are added to the batter.
At first I just felt upset that I might not be able to get my favorite take out dish. Then I felt stupid that I had not considered this before, that is until I did a google search and found that traditional tempura does not use eggs and there is no reason for them to be in the dish.
Next I took two steps to rectify this situation. First I found out which of my favorite locations served vegan friendly tempura (it is nice to have an option for eating out with friends, or for a lazy day). Secondly, I started experimenting, (I really do generally prefer to cook things myself).
It took a bit of trial and error to get the process right, as it turns out tempura can be a bit temperamental. However I now have the following recipe to share with you. So just follow the steps below and you will have, perfectly cooked, completely vegan, vegetable tempura.
What you need:
1 cup Water
1 cup Flour + ½ cup Flour
1 tsp salt
½ tsp baking soda
12 Ice Cubes
Assorted Vegetables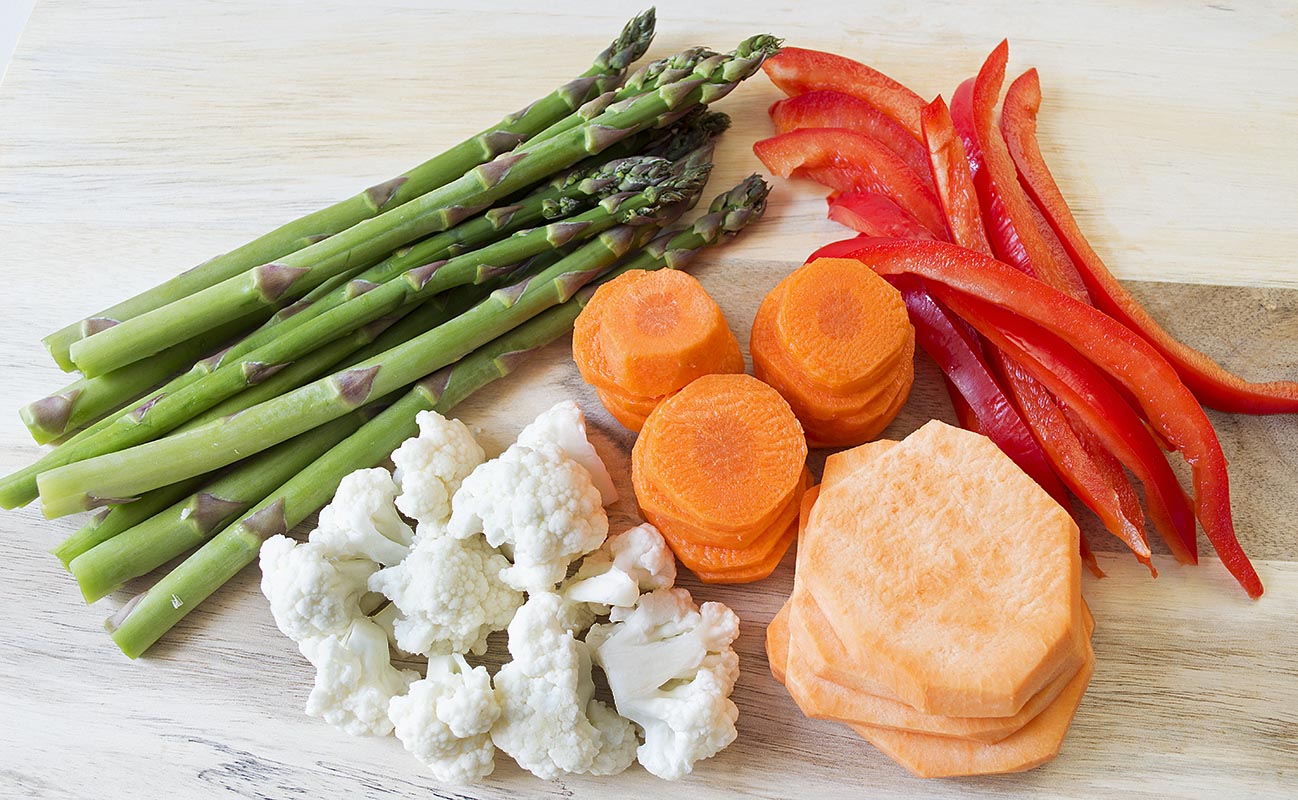 Place the water in a small mixing bowl, in the fridge with 6 ice cubes in it. It is important to keep the tempura batter very cold. This prevents the gluten from activating, which would result in a doughy rather than crispy coating.
Peel and cut your vegetables. We commonly use sweet potatoes, peppers, asparagus, carrots and cauliflower, but you can use just about any vegetable you enjoy.
Making the batter is the most important step. It will determine if your vegetable tempura will be light and crispy, or heavy and doughy.
Mix the dry ingredients together in a small bowl.
Take the bowl of water from the fridge and remove any remaining ice cubes from it. Add the dry ingredients to the water. *IMPORTANT – do not stir, mix or whisk.*  Instead combine the water and flour with a stabbing motion for no more than 30 seconds, until you have a loose lumpy batter. It is ok if the flour is not fully mixed with the water, it will mix further as you coat the vegetables.
In a small frying pan heat about a ¼ inch of oil to 350°. You can also use a deep fryer or a pot if you prefer.
Put the extra ½ cup of flour in a shallow dish. This will be used to dredge the vegetables in as this will help the batter stick to them better
After each piece is dredged dip it into the batter and them place in the oil. Let tempura fry for about 2 minutes until the batter turns golden brown, turning halfway though if frying in a pan.
Remove from the oil and place on a plate with some paper towel. Now get ready to enjoy you homemade vegetable tempura!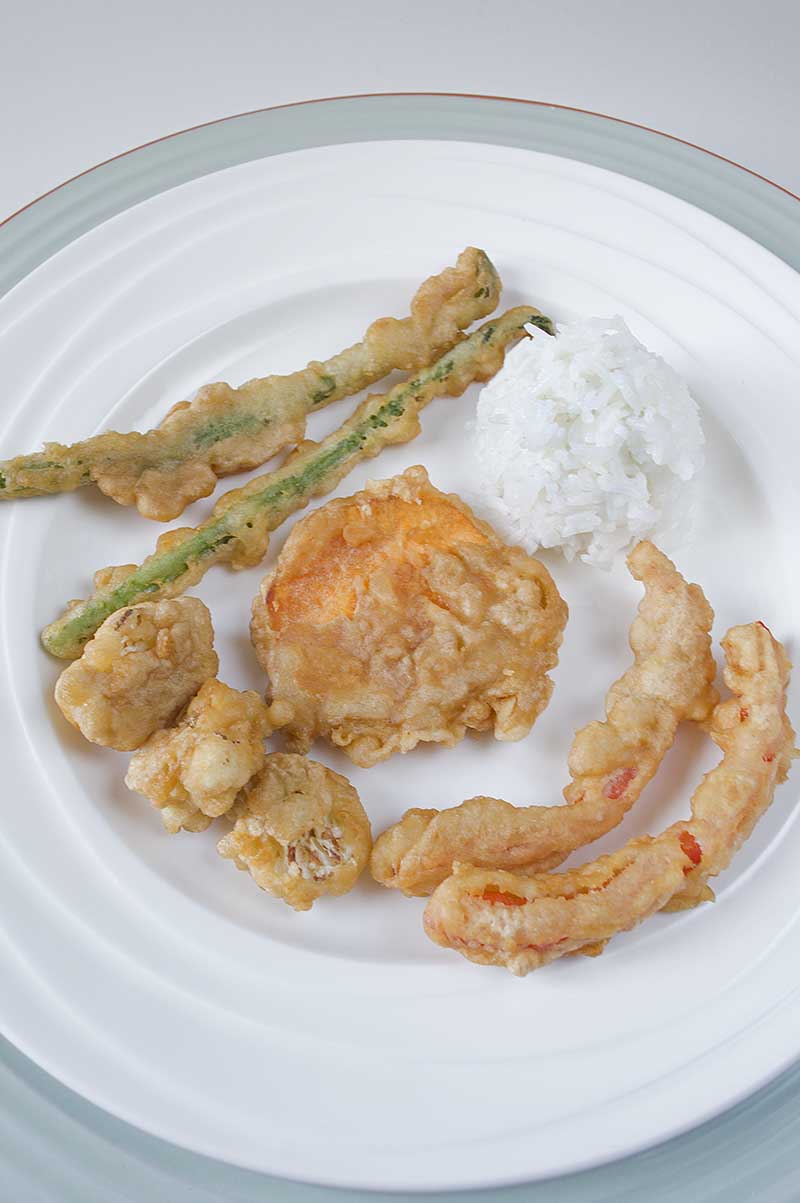 Summary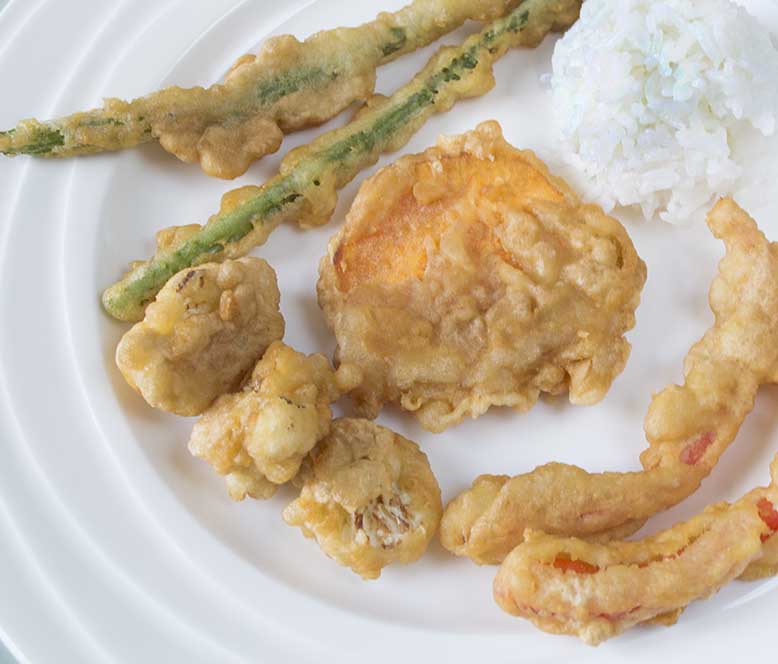 Recipe Name
Perfect Vegetable Tempura
Published On
Preparation Time
Cook Time
Total Time