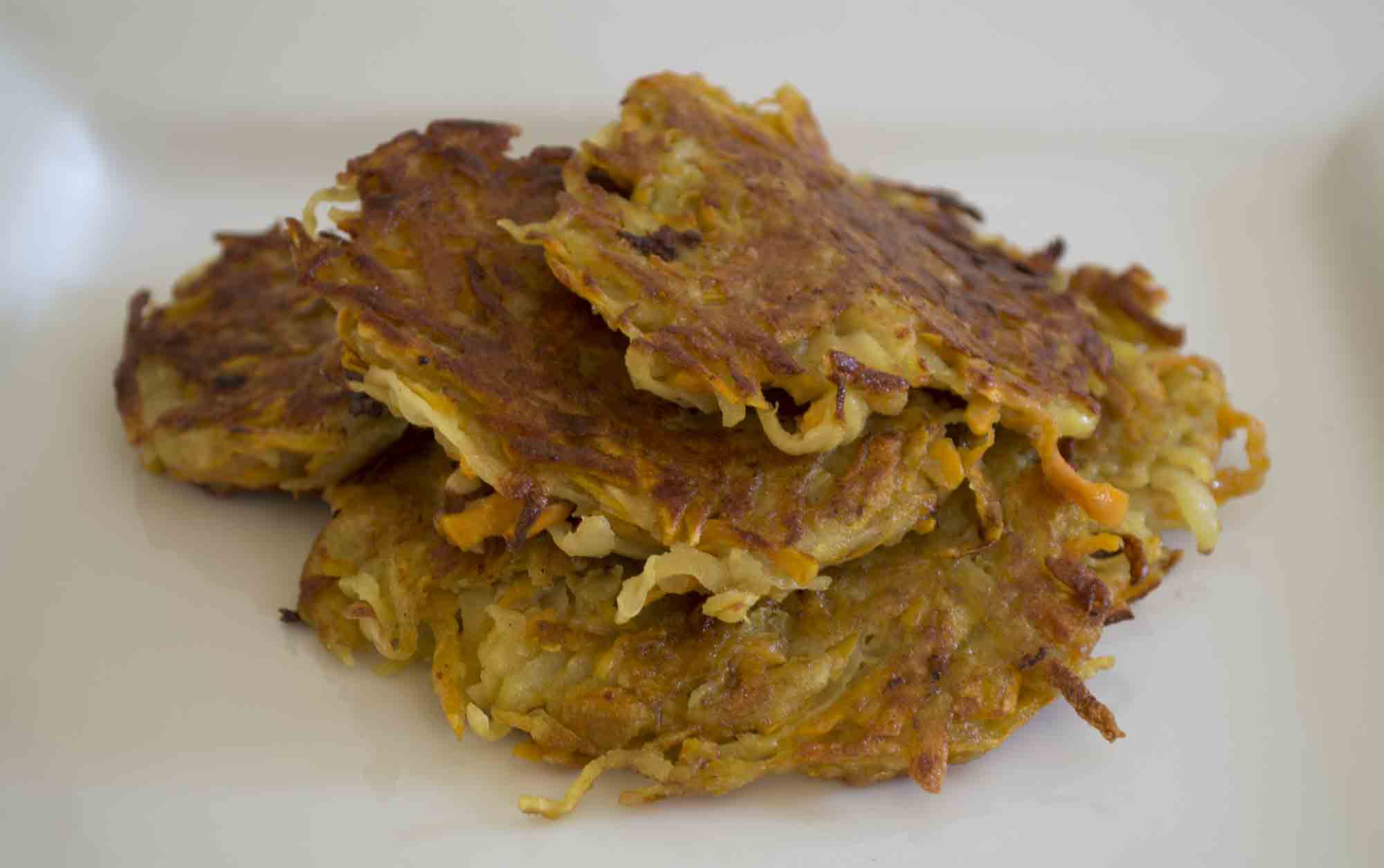 I love these vegan sweet potato pancakes so much! Crispy but still a little soft on the inside, and the combination of potatoes and sweet potatoes adds an extra level to the traditional potato pancake. They are a great dish for any meal, but I personally love having them for supper and then saving enough leftovers for an easy and delicious breakfast the next day.
Serve with a dollop of your preferred vegan cream cheese or homemade cashew cream cheese, add a side of sauerkraut, or just dig into them as they are. Sweet potato pancakes are just plain great!
What you will need:
1 Pound of Potatoes  (2-3 med potatoes)
1 Pound of Sweet Potatoes (1 large sweet potato)
2 Shallots (caramelized)
¼ cup Flour
½ Baking Powder
1 tsp Salt
½ tsp Pepper
3 Cloves Roasted Garlic
2 tsp Nutritional Yeast
Dice shallots and place in a small frying pan, with a little oil, on low heat for approx 45 minutes until caramelized.
Preheat oven to 350 F. Put a small amount of oil on a pan and place the garlic cloves on the oil. Roast for 5-8 minutes. Set aside until it cools enough to touch.
Mix all the dry ingredients together in a medium sized bowl and set aside.
Peel and grate the potatoes and sweet potatoes.
Take the clove of garlic and remove the skin. Smash the garlic into a paste and stir into the dry ingredients. Then add the grated potato and sweet potato and mix well.
Add oil to a medium sized frying pan and heat to medium. Using your hands form the potato mixture into cakes about the size of your palm. I find that thinner sweet potato pancakes make for a better ratio of crispy outside and soft inside.
Fry each side until golden brown. Now you have a delicious meal of vegan sweet potato pancakes! Top with ketchup, hot sauce, or whatever you prefer. Dig in and enjoy!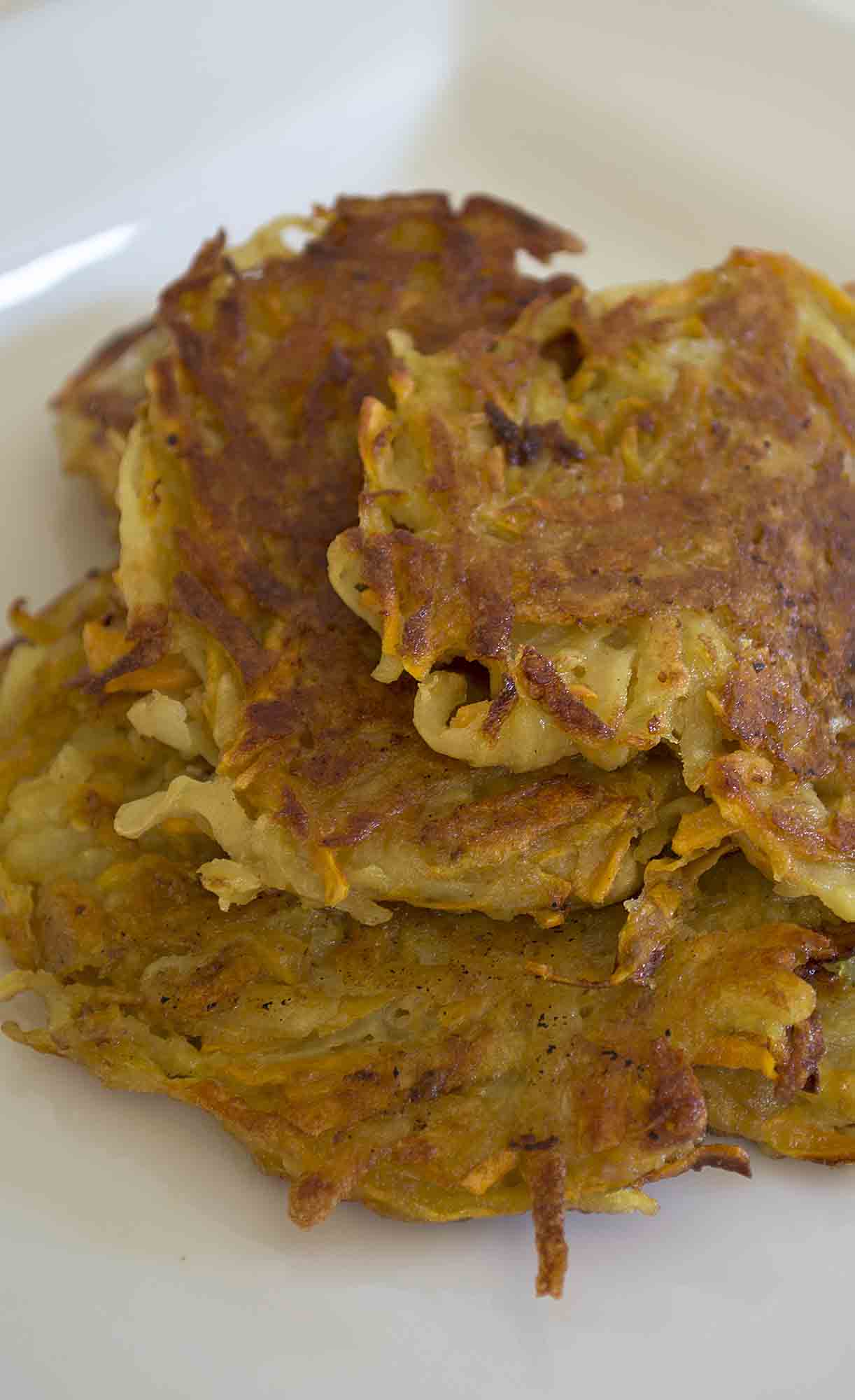 Summary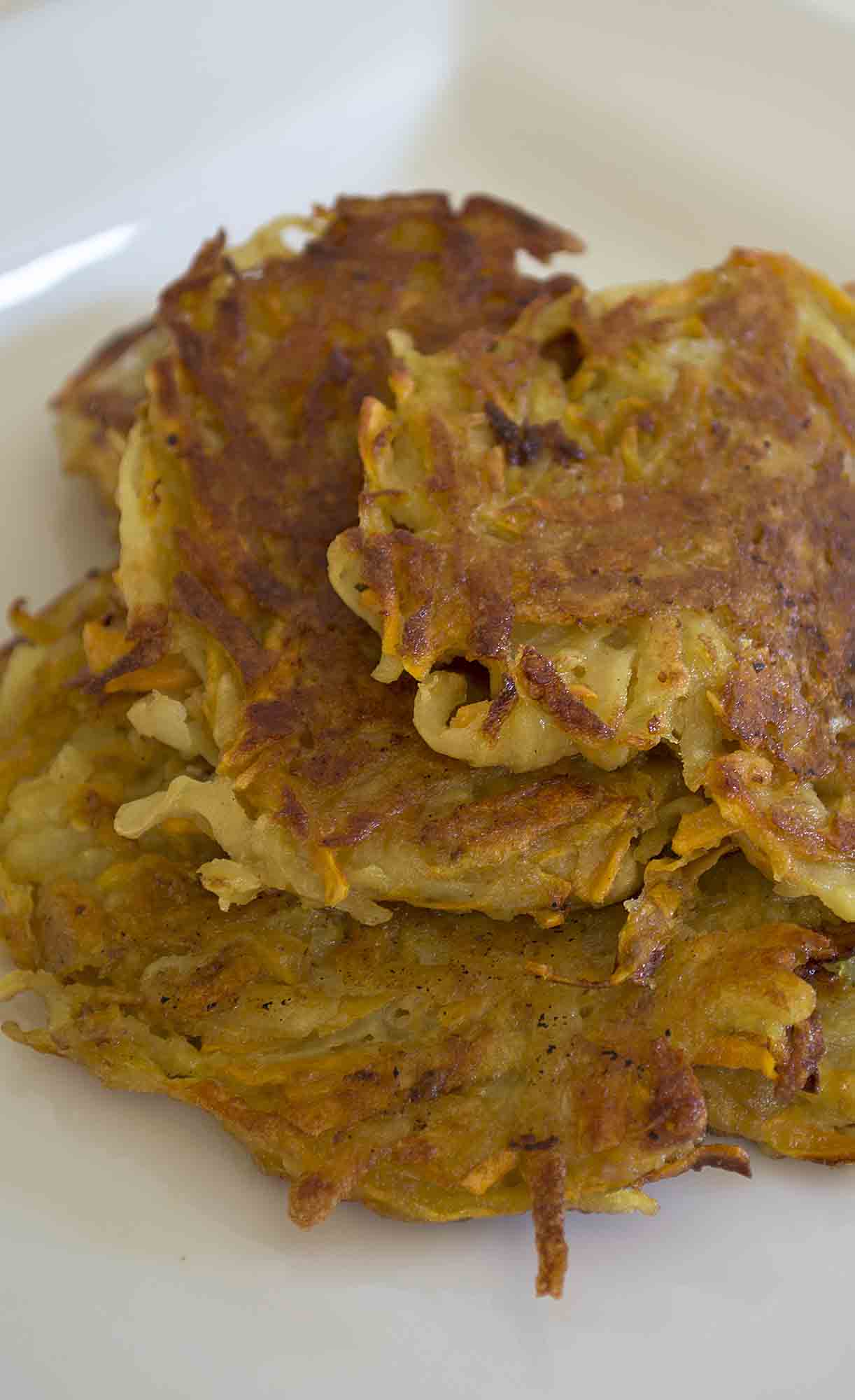 Recipe Name
Vegan Sweet Potato Pancakes
Published On
Preparation Time
Cook Time
Total Time