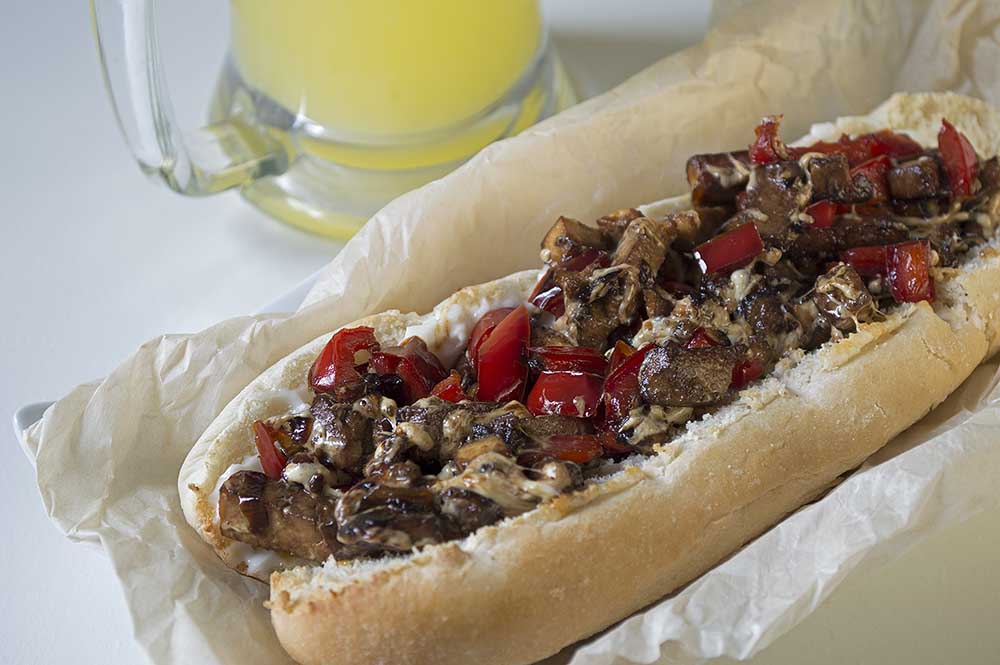 I have recently been watching a lot of food network shows and one of the challenges on an episode of "Cutthroat Kitchen" was to make a Philly cheese steak sandwich.  To be honest I am not sure I ever had a one of these when I still ate meat, but I found myself thinking, I could make a really great vegan Philly cheese steak, and I bet it would beat any of these!
I did not do anything with this idea until one night I was home cooking supper.  I had a really nice stirfry started with caramelized shallots, red pepper, and tofu ready to go in, and I realized that I did not have any rice.  Ahhh!
Looking around and trying to figure out what to do I saw that I still had some really nice buns left from a veggie dog dinner I'd had a couple of nights before. I remembered thinking about making vegan Philly cheese steak and thus this recipe was born. It turned out great, and the fact that it was all done winging it makes it even more fun.
If you don't think this could win  "Cutthroat Kitchen" you clearly have not given it a try. Go ahead it will be worth your while, and will make you smile.
What You Will Need:
½ block Firm Tofu
2 Shallots diced (yes you could also use 1 small onion)
1 Red Pepper
1 tbsp Maple Syrup
1 tbsp Soy Sauce
1 tbsp Nutritional Yeast
½ cup Vegan Cheese Shreds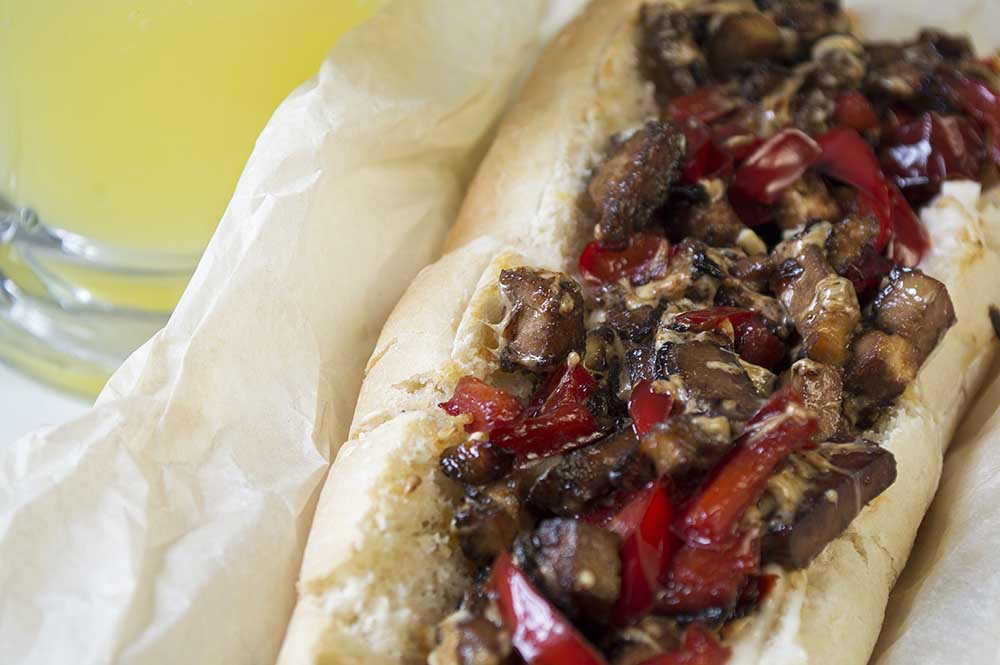 How To Do It:
Drain rinse and press the tofu. The other half of the tofu can either be used to make more of vegan Philly cheese steak, or covered in water in an airtight container to be saved for another recipe.
Cut tofu into squares about ¼ thick, and then slice each square into thin strips.
Place the diced shallots in a medium sized frying pan with teaspoon of oil. Fry on medium heat for 3-4 minutes or until they begin to brown.
If you plan ahead and have extra time for an added touch you can leave them on low heat for an hour or a little more before continuing and you will have beautiful caramelized shallots in your sandwiches.
Cut the red pepper into strips about ¼ inch wide and ½ and inch to and inch long. Once the shallots brown add to the med frying pan and continue to cook for 5 minutes.
During the last minute of cooking the peppers add 1 tbsp of maple syrup.
Now add the tofu to the pan, along with the soy sauce and nutritional yeast. Allow this all to cook for another 3-4 minutes on medium heat.
Remove the pan for heat and add in the vegan cheese shreds. I generally use Daiya mozzarella style shreds as they are what is most readily available on PEI and have the right ooey gooey texture to your vegan Philly cheese steak when they melt, but you can use whatever you prefer.
Let your vegan cheese get a little bit melty and then give it a few stirs to mix it in. Then add to a nice toasty bun and smile!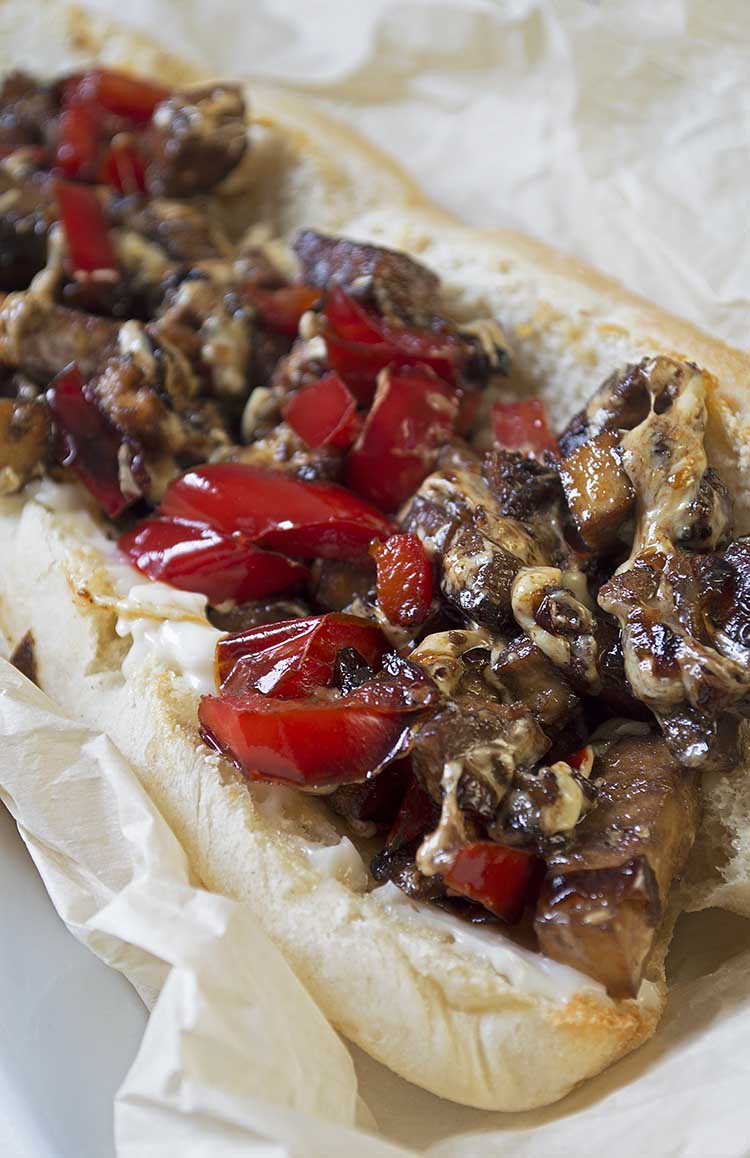 Summary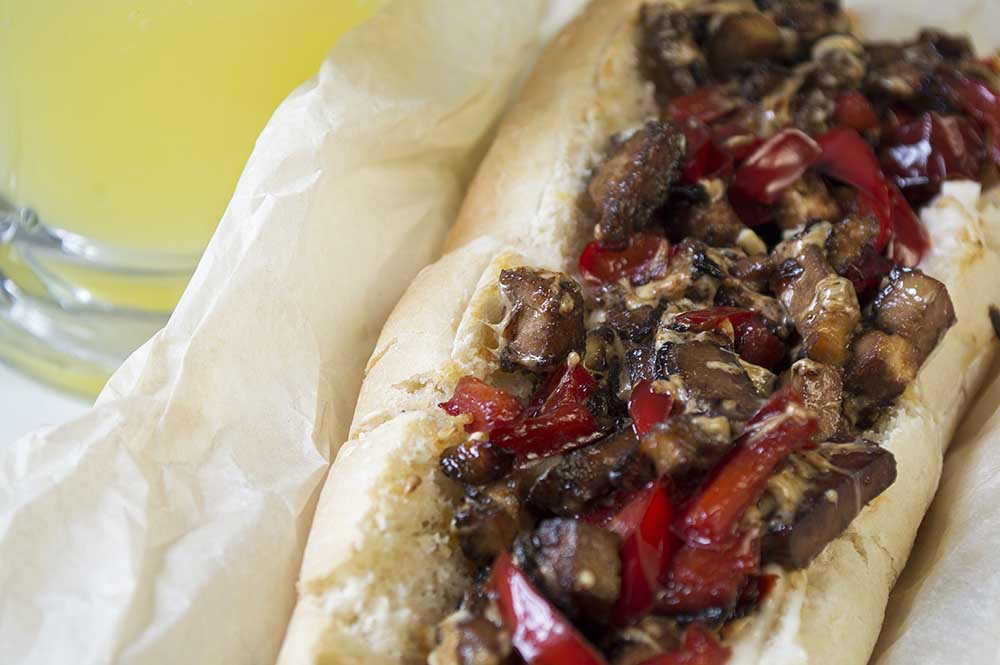 Recipe Name
Vegan Philly Cheese Steak Sandwich
Published On
Preparation Time
Cook Time
Total Time